Legislature adopts final supplemental budgets – Strong revenue is tempered by concerns over the economic impacts of COVID-19
Things have rapidly changed for the state's budget outlook. In February the Legislature had great news – a revenue forecast projecting that the state had a strong economic standing. However, in the past week the economic news has changed significantly as negative impacts from the coronavirus disease (COVID-19) have emerged. Find out what's in the final adopted budgets, what's earmarked for COVID-19 response, when the next forecast comes out, and what it all means for cities. More
Trial court affirms I-976 decision and lifts injunction
A disappointing ruling came down from the King County Superior Court on I-976. The court denied part of the plaintiff's (AWC and coalition) motions for reconsideration, thus confirming that I-976 stands. Unless the court takes further action, I-976 takes effect on March 27. Ultimately though, we expect the Washington State Supreme Court to decide I-976's constitutionality. Read next steps for cities.
Affordable housing bills finalized
Several bills that AWC has been working on have made it through the Legislature and are on their way to the Governor. Additionally, the final operating and capital budgets include significant new investments in these issues. Read the highlights. More
Sustainable, fully funded infrastructure is the most pressing need for cities.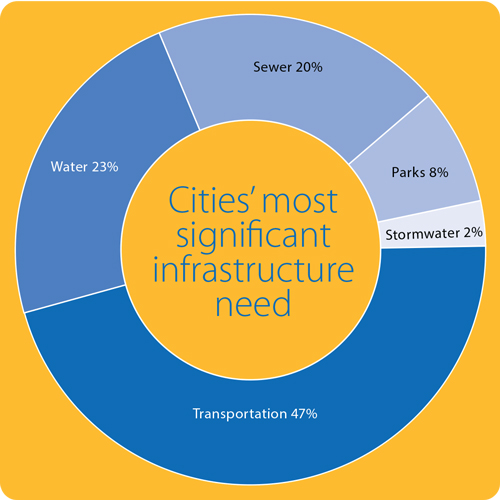 Read this chapter of the 2020 State of the Cities to learn about the challenges cities face in addressing deteriorating infrastructure on limited budgets.

Register for our legislative wrap-up


March 19 | Webinar
Join the AWC Advocacy Team for an informative recap of city-related issues from the 2020 legislative session. Get a firsthand look at the outcomes of our seven legislative priorities along with other key outcomes of the 2020 session.
COVID-19: OPMA guidance from Attorney General & other resources
Some cities may be considering their options for how to conduct public meetings under the state's Open Public Meetings Act (OPMA) during the COVID-19 outbreak in Washington state. This document from the Office of the Attorney General suggests general guidance, options, and resources for agencies concerned about virus transmission at public meetings governed by the OPMA. Find a list of additional resources on AWC's website.

Legislature wraps up its work amid COVID-19 emergency
The Legislature adjourned on time on Thursday, March 12, completing its main task of adopting supplemental updates for the operating, capital, and transportation budgets. Coming into the 2020 session, expectations were not high for tackling big issues. But they surprised us by passing a few important policy bills, even while facing the COVID-19 emergency.
Lastly, thank you for being the best strong city advocates – we couldn't have done the legislative session without you! More

Budget & finance
Bill that remits Boeing's B&O tax preferences passes both chambers. More
Proposal that increases tourism fee awaits Governor's signature. More
Legislature passes bill to continue supporting cities dependent upon Streamlined Sales Tax (SST) mitigation payments. More
Cannabis
Marijuana Social Equity Program heads for the Governor's desk. More
Environment & natural resources
The "net ecological gain" bill we've reported on this session was converted into a study bill. More
Federal
City officials in D.C. – COVID-19 and more. More
General government
Several bills impact general government operations for cities. More
HR & labor relations
Bills impacting human resources make it through the Legislature. More
Land use & planning
Comprehensive plan timelines bill rescued from the grave. More
Pensions
PERS 1 COLA heads to the Governor's desk for signature. More
Public safety & criminal justice
New training & certification requirements established for corrections officers. More
Administrative Office of the Courts to conduct study and pilot project for vacating convictions. More
Several bills bring changes to criminal sentencing and protections. More
Bills increase access to substance use treatments. More
Legislature passes bill providing relief and resources for sexually exploited children. More
Public works
Watershed culvert approach gets a major boost. More
Transportation
"Block the box" bill passes both Senate and House. More
Autonomous vehicle testing bill heads to Governor's desk. More
Transportation budget contains numerous important studies and workgroups. More