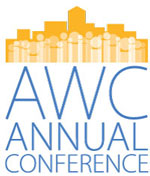 New session announcement: Advancing racial equity
Hear from a panel of city leaders as they engage in an honest conversation about systemic racism, policing, and how different communities are taking action. Register for the AWC Annual Conference Online and join this session on Thursday, June 25 from 3 to 4:30 pm. Learn more about how AWC is supporting cities as they advance racial equity in this statement from AWC CEO Peter King.
Check out the AWC Business Meeting materials and agenda
The AWC Business Meeting is Thursday, June 25 from 10 am to noon. Check out the agenda and important action items.
New Statement of Policy for membership adoption
AWC's Statement of Policy is a foundational document that provides key guidance for setting legislative priorities and responding to policy issues as they arise. The AWC bylaws require the document to be updated every six years. More
Amendments to AWC bylaws forwarded to the membership 
A Board-appointed Bylaws Review Committee has proposed two amendments that now go before the full membership for approval during the AWC Business Meeting. More
Remember to submit your city's voting delegates by 5 pm on June 23. Each city may select up to three voting delegates – either elected officials or staff. Only voting delegates will be able to vote on Board candidates, bylaws amendments, and the proposed Statement of Policy.
Advancing racial equity in your city: A municipal action guide
NLC's Race, Equity, and Leadership (REAL) initiative aims to strengthen local leaders' knowledge and capacity to eliminate racial disparities, heal racial divisions, and build more equitable communities. REAL has many resources to read and share, including this municipal action guide on advancing racial equity in your city. It's a great complement to the action guide we shared last week.
CQC scholarship fund – Donate today!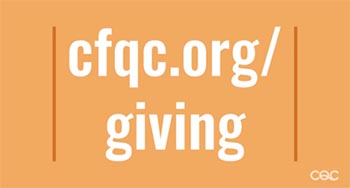 Your generous donations to the Center for Quality Communities scholarship fund make a difference in the lives of promising student leaders. These civic-minded students will soon be leading the way as we work to solve our common problems and build stronger communities. Please donate today to support future scholarship winners!
Commerce provides updated guidance for CRF small business grants 
The state Department of Commerce has clarified that Coronavirus Relief Fund (CRF) grants provided by cities to small businesses do not need to be reimbursement-based if the grants are structured to meet the eligible use requirements for CARES funds. The full grant amount will be considered an incurred expense when the grant is awarded to the small business. The business does not need to submit receipts in order to access grant funds or for the local government to request reimbursement from Commerce for the grant.
Drug & alcohol testing for CDL employees 
Random drug and alcohol testing of CDL employees is required even during the pandemic. However, the Federal Motor Carrier Safety Administration (FMCSA) recently announced it is waiving some pre-employment testing requirements. The requirement to have furloughed CDL employees pre-employment tested for drugs and alcohol prior to coming back to work has been waived through September 30, 2020. This FMCSA guidance contains more information.
AWC's Salary and Benefits Survey – Deadline extended!
The deadline to complete the 2020 Salary and Benefits Survey has been extended to Friday, June 26. This year's new survey platform requires more time than in previous years – and we believe it will be well worth your effort. The new system will enable a more robust reporting tool and allow for more sophisticated functionality in the future. Learn more and get started today!


Did you know? Collectively, the postings on AWC JobNet receive an average of over 14,000 views per month. Maximize your recruiting efforts and get started today!
Featured jobs:
City of Stanwood | Human Resources Manager
City of Blaine | Public Works Director
City of Mount Vernon | Battalion Chief - Fire Marshal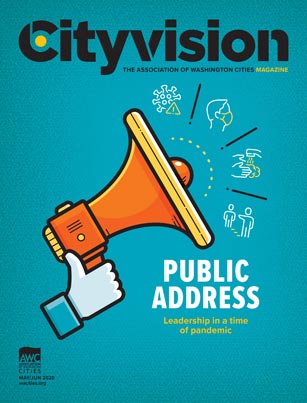 Closing the distance
This Cityvision article explores how effective leaders can create healthy workplaces during times of crisis by maintaining trust, communicating clearly, cultivating connections, and offering support.

OPMA and PRA waivers and suspensions expire June 17
The Public Records Act (PRA) and Open Public Meetings Act (OPMA) emergency proclamation waivers and suspensions implemented by the Governor in response to COVID-19 expire today, Wednesday, June 17. We are optimistic that legislative leadership will grant another short-term extension of the emergency proclamation. However, we encourage cities to have plans in place for their public meetings if no further extension is granted. This blog post from MRSC offers helpful suggestions.
AWC Annual Conference – Don't miss out!


June 23-26 | Online
If you've never experienced an AWC Annual Conference, don't miss this unique opportunity to participate from the comfort of your own home. Tune in to live speakers and networking sessions as your schedule allows, or just enjoy on-demand education sessions at your convenience. Watch them all or watch just one – you decide! City elected officials will earn 10 CML credits for participating. Register now!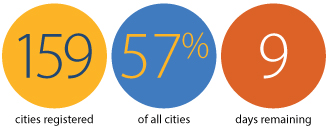 AWC trainings & events

June 23-26

Online
CSI report launch: From Waste Management to Clean Materials
June 18 | Online
The Center for Sustainable Infrastructure (CSI) is hosting a webinar presentation on its newly released report, From Waste Management to Clean Materials. The report offers a blueprint for transforming the Pacific Northwest's waste system into a world-class model that delivers substantial economic, health, and environmental benefits.
Poverty Reduction Work Group's 10-year plan – Online discussion and review
June 23 | Online
The Poverty Reduction Work Group is hosting a webinar to review its 10-year Plan to Reduce Poverty & Inequality in Washington. The work group is seeking feedback on priority strategies in the wake of COVID-19 as well as other constructive comments prior to submitting the final plan to Governor Inslee this summer.
Local investment networks around Washington
June 30 | Online
Join the Washington State Microenterprise Association, economist Michael Shuman, and others for a panel discussion to raise awareness of the impact of local investing for communities, especially during the COVID-19 crisis. Learn what different local investment networks around the state are doing to innovate and support entrepreneurs during these difficult times. 
U.S. Supreme Court review webinar for states and local governments
July 29 | Online
Join this high-profile panel of legal experts for a discussion of the Supreme Court's most interesting and relevant cases to states and local governments from the 2019-2020 term. Presented by the State & Local Legal Center.