Running great meetings with parliamentary procedure
January 28 | Olympia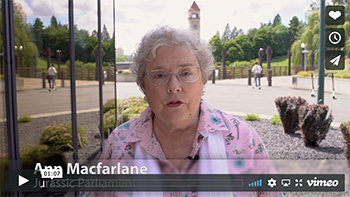 Watch this video of Ann Macfarlane discussing the ultimate purpose of a city council meeting. Then, register for her workshop taking place in tandem with City Action Days. During this fun and informative event, Macfarlane covers motions, amendments, and voting and gives her best tips on effective responses to rudeness or obstruction.
Apply for the AWC Board – District 13
The Ad-hoc Nominating Committee is calling for applications for the AWC Board of Directors – District 13 position. District 13 represents 16 cities in south King County. Gain an overview of director responsibilities, learn who can apply, how to apply, and all about the nominations process. Applications are due Monday, December 30.
Get involved! Apply to serve on state commissions
AWC is recruiting candidates for the following commission/board:
Applications are due January 10.
Thank you for a successful Elected Officials Essentials!
More than 300 elected officials gathered in 11 locations throughout the state to learn the most critical legal and functional responsibilities of elected office. Thanks to all the attendees, attorneys, and hosts who participated in Saturday's event! See photos from this weekend's event and find key resources on AWC's website.
Washington urban forest pest readiness playbook
The Washington Invasive Species Council recently released the Washington State Urban Forest Pest Readiness Playbook, a new resource to reference when addressing the threat of urban forest pests. The playbook contains self-assessments and recommended actions that communities can use to prepare for pest outbreaks.
Respond to Commerce's survey about a land use planning decision-making tool
The Washington State Department of Commerce is looking to develop a new web-based decision-support tool to help local governments balance land use, critical areas, and other environmental planning under the Growth Management Act (GMA). Commerce is seeking survey input from cities and planners on the design and functionality of the tool.
New EPA Action Plan to enhance local water resources
The EPA's Draft Action Plan aims to replace the fragmented approach to water resources management with more comprehensive strategies to meet diverse water quality and quantity needs in our nation. Read about it and sign on to NLC's comment letter by December 16.


Did you know?
Over 600 individuals have alerts set so they can view your new posting the moment it is made.
Collectively, the postings on JobNet receive an average of over 12,000 views per month.
Great jobs. Strong candidates. Low cost. Post your jobs on AWC JobNet today!
Job seekers can also see your jobs highlighted on social media. Follow us on Facebook and Twitter!
Featured jobs
City of Milton | Planning Manager
City of Airway Heights | Planning Technician
City of Federal Way | Community Development Block Grant / Human Services Coordinator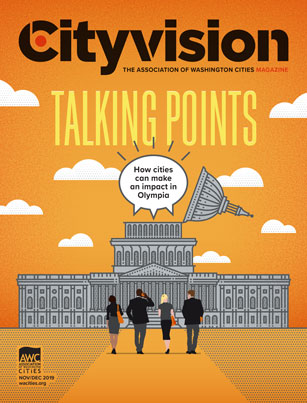 Cityvision is here! Talking points: How can cities make an impact in Olympia?
Hear stories and learn practical steps for legislative success. You'll find out how to stop treating legislative advocacy like a New Year's resolution and start building effective partnerships.

State revenue quarterly forecast updated
The Economic and Revenue Forecast Council (ERFC) recently updated its forecast of Washington State revenues. We expect Governor Inslee to release his proposed supplemental budget the week of December 16. The Legislature will take up the supplemental budget when the 2020 Session begins on January 13. Stay tuned to our website and email communications next week where we'll parse the Governor's proposed budget and send highlighted city budget impacts.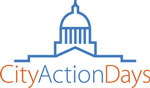 Register for City Action Days!


January 28-29 | Olympia
At just 60 days, the short 2020 legislative session won't last long. Don't miss this critical opportunity to engage legislators at City Action Days! You'll interact with 350 of your colleagues and educate statewide decision-makers about city legislative priorities. Enjoy informative sessions, networking opportunities, and a day of focused Capitol Campus meetings. Start planning now to meet with your legislators while you are in Olympia. Register now! This event begins on the afternoon of January 28 with optional early start sessions.
Census 2020: Ready, set, count!


December 13 | Webinar
In March 2020, communities across the nation will take part in the 2020 Census. With over $600 billion in federal funding and grant money on the line, cities across Washington have already begun preparing to ensure their community will be accurately counted. Join AWC for a webinar to learn about new resources and insights on how the 2020 Census can benefit your city. This webinar is for elected officials, city administrators, and other city leaders. Register now!
AWC trainings & events

December 13

Webinar

January 28

Olympia

January 28-29

Olympia
Other trainings

December dates

Various locations
PWB stakeholder outreach events
December 16 | Wenatchee
December 18 | Spokane
The Washington State Public Works Board (PWB) will hold public stakeholder workshops in December to discuss the implementation of Washington's new Broadband Internet Service Access law. More

Census grant funding available
The Office of Financial Management (OFM) recently announced the availability of $2 million for Washington cities, counties, and libraries to support their efforts to reach out to residents regarding the 2020 Census. Act fast: Applications are due by December 16.