AWC continuity of operations during COVID-19
Cities and other local governments are on the front lines of supporting community members during the COVID-19 pandemic, and AWC is here to support you in the work you do. During this unprecedented time, AWC will maintain continuity of operations and outstanding services to our members, partners, and other stakeholders. As always, please don't hesitate to contact us if we can be of assistance. Find out more about what AWC is doing and check the status of scheduled events.
Trial court affirms I-976 decision and lifts injunction
A disappointing ruling came down from the King County Superior Court on I-976. The court denied part of the plaintiff's (AWC and coalition) motions for reconsideration, thus confirming that I-976 stands. Unless the court takes further action, I-976 takes effect on March 27. Ultimately though, we expect the Washington State Supreme Court to decide I-976's constitutionality. Read next steps for cities.
COVID-19 and AWC Trust medical plan coverage
In response to the Office of the Insurance Commissioner's emergency order regarding the outbreak of COVID-19, all fully insured health carriers must provide certain coverage related to COVID-19. This order does not apply to self-insured plans, such as the AWC Trust plans. However, the AWC Trust has worked with Regence BlueShield, Asuris Northwest Health, and Kaiser Permanente to follow the guidance and requirements of this order. More
Emergency Housing Grants to address COVID-19
The Washington Department of Commerce is making $30 million in funding immediately accessible to every county under a formula grant. This funding will help local governments stand up housing for quarantine, isolation, and additional sanitation needed to address the COVID-19 outbreak. There are opportunities and encouragements within this grant for counties to partner with cities and local public health jurisdictions to develop rapid capacity. We encourage you to quickly reach out to your county and public health officials if you have ideas and interest in participating. More
NLC advocates for additional funds for cities during COVID-19 pandemic 
As cities and towns across the country respond to the COVID-19 pandemic, the National League of Cities (NLC) has sent a letter requesting additional federal resources for cities. The letter urges Congress to increase support for local governments so that they may better intervene against the pandemic's social and economic impacts. We urge you to contact your federal representatives to voice your support for NLC's proposed resources. You can also reach your federal delegation directly through NLC's online tool.
Attorney General releases guidance on gift of public funds during COVID-19 pandemic 
On March 17 the Attorney General's Office released guidance to cities and state agencies on the gift of public funds during the COVID-19 pandemic. The memo reinforces that local governments have broad authority to spend public dollars to fight COVID-19 without fear of violating the state constitution. The memo provides a few examples of proper uses of public funds that support government and community needs. We encourage you to review the memo with your legal counsel and make decisions on expenditures of public funds accordingly. 
Last call for AWC Board applications
The 2020 AWC Nominating Committee is calling for applications for the even-numbered and At-Large #1 (Western) AWC Board of Director positions. Gain an overview of director responsibilities and learn who is eligible, how to apply, and all about the nomination process. Applications are due March 22.
Deadline extended for AWC's Large City Advisory Committee
AWC is recruiting city elected officials from cities of 50,000+ population to serve on the Large City Advisory Committee to provide input on the legislative priorities-setting process and help guide the Board of Directors as it sets the course for future activities and services. Deadline to apply is March 31.

Cities are investing more than ever in transportation infrastructure, but can't close the $1 billion gap in maintenance and preservation costs.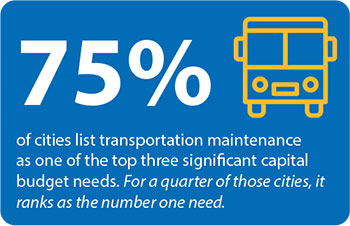 Read this chapter of 2020 State of the Cities to learn why cities need help to invest in preserving the existing system now.

Learn why a comprehensive culvert approach makes sense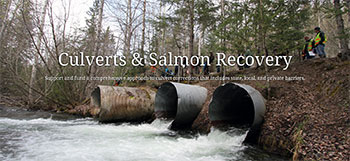 The state is under a federal injunction to fix state-owned fish-blocking culverts. But fixing only state culverts will make the state's investment incomplete at best and ineffective at worst. Why? Because there are many other culverts downstream and upstream. By only fixing a state culvert that is sandwiched between other barriers, the state's investment does not achieve the goal of fish recovery. Check out AWC's new data story to see why a comprehensive approach to culvert corrections is essential to achieving salmon recovery.

Legislature wraps up its work amid COVID-19 emergency
The Legislature adjourned on time on Thursday, March 12, completing its main task of adopting supplemental updates for the operating, capital, and transportation budgets. Coming into the 2020 session, expectations were not high for tackling big issues. But they surprised us by passing a few important policy bills, even while facing the COVID-19 emergency. More
Catch these other popular highlights from the Legislative Bulletin:
Legislature adopts final supplemental budgets – Strong revenue is tempered by concerns over the economic impacts of COVID-19. More
Affordable housing bills finalized. More
Bills impacting human resources make it through the Legislature. More 
At this time, all AWC on-site trainings have been suspended due to the COVID-19 outbreak. Please watch CityVoice for webinar opportunities and explore the many online training resources available on our eLearning page.
AWC trainings & events

March 26

Webinar
Welcome, newly elected officials
Congratulations to all the new mayors and councilmembers. Welcome to the city family! Through trainings, resources, and publications, AWC is here to help you develop as a municipal leader. For your first 100 days, we'll highlight some of your AWC Elected Officials Essentials here in CityVoice.

Check out AWC's eLearning library
AWC is proud to bring you a wide range of eLearning options. Need CML credits? We have an eLearning for that. Start watching now!

Deadline extension: Broadband Feasibility and Outreach Grants
The Public Works Board extended the Broadband Feasibility and Outreach Grant applications deadline to April 20. Approximately $50,000 of available funding will support small communities during their public outreach and engagement activities to bring critical broadband infrastructure to underserved areas around the state. To learn more or submit an application, please visit the PWB's Broadband Financing page.


Looking to fill a key position? JobNet is your hiring solution. Post your job openings on AWC JobNet today.
Featured jobs:
City of Wenatchee | Police Records Specialist
City of Federal Way | Administrative Assistant 1
City of Camas | City Administrator