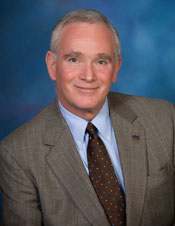 In remembrance of Stan Finkelstein
It is with heavy hearts that AWC members and staff remember longtime leader and former executive director Stan Finkelstein, who passed away earlier this week. Finkelstein worked at AWC for 36 years. He was an advocate, mentor, and teacher to many. Read more about Stan's life and contributions.
COVID-19: OPMA guidance from Attorney General
Some cities may be considering their options for how to conduct public meetings under the state's Open Public Meetings Act (OPMA) during the COVID-19 outbreak in Washington state. This document from the Office of the Attorney General suggests general guidance, options, and resources for agencies concerned about virus transmission at public meetings governed by the OPMA. Find a list of additional resources here.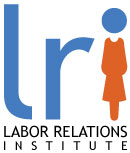 Register now for Labor Relations Institute
May 6-8 | Yakima
Registration is now open for AWC's 40th annual Labor Relations Institute – the premier training event for public sector human resources and labor relations professionals. The agenda is structured to inform and inspire. Enhance your skills and better understand the current legal landscape; navigate emerging trends; learn to solve unique problems and improve employee-management relations; and meet and learn from leading service and product providers. Attendance at LRI is limited to those who solely represent the interests of management.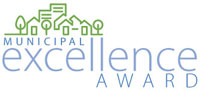 AWC Municipal Excellence Award applications due Friday!
Does your city have an innovative project or program centered on race and equity or sustainability? If so, tell us about it! Your city could gain recognition through an AWC Municipal Excellence Award, and other cities could be informed and inspired by your approach to building community and solving local problems together. See all of the award categories, along with examples of past winners, on our website. The March 13 deadline is fast approaching, and applying is easy.
AWC Annual Conference: Last call for proposals!
Have a great idea that you would like to share at AWC's Annual Conference in Kennewick this June? There is still time to submit a proposal! Share your city's stories, programs, and partnership innovations, and educate hundreds of local elected officials, city department directors, staff, and decision-makers. The last review for this year's annual conference will be in early April. Submit your proposals now!
Apply to serve on AWC's Large City Advisory Committee
AWC is recruiting city elected officials from cities of 50,000+ population to serve on the Large City Advisory Committee to provide input on the legislative priorities-setting process and help guide the Board of Directors as it sets the course for future activities and services. Deadline to apply is March 22.
Apply now for the AWC Board of Directors
The 2020 AWC Nominating Committee is calling for applications for the even-numbered and At-Large #1 (Western) AWC Board of Director positions. Gain an overview of director responsibilities and learn who is eligible, how to apply, and all about the nomination process. Applications are due March 22.

Sustainable, fully funded infrastructure is the most pressing need for cities.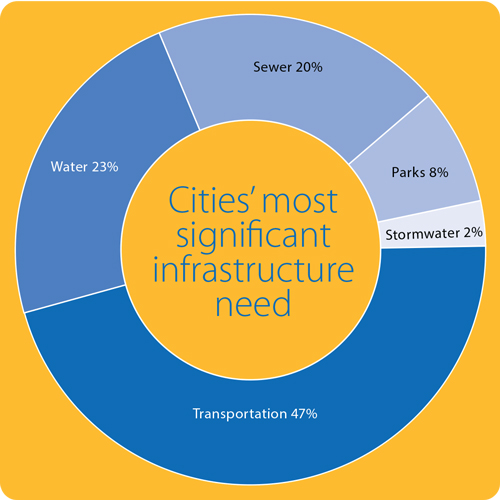 Read this chapter of the 2020 State of the Cities to learn about the challenges cities face in addressing deteriorating infrastructure on limited budgets.
Welcome, newly elected officials
Congratulations to all the new mayors and councilmembers. Welcome to the city family! Through trainings, resources, and publications, AWC is here to help you develop as a municipal leader. For your first 100 days, we'll highlight some of your AWC Elected Officials Essentials here in CityVoice.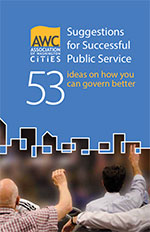 53 Suggestions for Successful Public Service
This resource offers 53 ideas for successful municipal leadership. From learning all about your city, to establishing policy statements, to working effectively with your colleagues and your community, find a wide variety of tips to help you succeed.


Spring into action!
Recruit for seasonal positions on AWC JobNet. Post your job today!
Featured jobs:
City of Richland | Finance Supervisor
City of Yelm | Public Works Director
City of Redmond | Homeless Outreach Program Administrator

Final days of the 2020 session – Sine Die is March 12
Tomorrow is the last day of the 2020 legislative session. The Legislature is spending these last days finalizing the supplemental budgets and wrapping up work on policy bills. Get our bill Hot Sheet for this week, which includes what action is needed to make sure bills get to the finish line by March 12. More

Advocacy is a year-round job
Session is almost over, but advocacy doesn't stop now! The upcoming legislative interim is one of the best times to connect with your legislators. They'll be back home soon; reach out to them to set up a meeting or phone call to talk about session outcomes for your community. Find more ideas for the legislative interim.
Legislative wrap-up


March 19 | Webinar
Join the AWC Advocacy Team for an informative recap of city-related issues from the 2020 legislative session. Get a firsthand look at the outcomes of our seven legislative priorities along with other key outcomes of the 2020 session.
Impacts of HB 1071: Protecting personal info


March 26 | Webinar
Local governments should be aware of the expansion of the state's data breach notification law. New updates took effect on March 1, expanding requirements on what type of data triggers a data breach notification and shortening the amount of time that government has to respond. This webinar explains these changes, including the expanded definition of personal information, how to identify a breach, notification requirements, and a discussion of potential issues with implementation.
AWC trainings & events

March 19

Webinar

March/April dates

Multiple locations

March 20

Webinar

March 26

Webinar

May 6-8

Yakima
MRSC: Managing the impact of COVID-19 on your agency
March 16 | Webinar
MRSC is partnering with Pacific Law Group and Summit Law Group to provide a free webinar addressing some of the issues faced by local governments in Washington state due to the spread of the coronavirus (COVID-19), including emergency government powers, impacts to employees, and legislative body meetings.
Supreme Court midterm update for states and local governments
March 26 | Webinar 
From First Amendment to Faithless Electors, states and local governments have a lot to look forward to in June 2020 as the Supreme Court issues most of its opinions of the term. Join the State and Local Legal Center for a webinar to discuss the most interesting cases the Supreme Court has agreed to hear since October 2019 for states and local governments. 

CDBG General Purpose Grant Application
March 19 | Webinar
The Department of Commerce is hosting a Community Development Block Grant (General Purpose) application webinar. Learn how to apply for funding for public facilities, community facilities, economic development and housing projects that benefit low-and moderate-income persons.
Enhancing Community Responses to America's Addiction Crisis: Serving Our Youngest Crime Victims
The Department of Justice's Office for Victims of Crime is offering funding to support direct services to children and youth who are crime victims as a result of the nation's addiction crisis, and training and technical assistance for the direct services grantees. Register for the March 23 pre-application webinar. Grant applications due by May 4.
Body-Worn Camera Policy and Implementation Program
The Department of Justice's Body-Worn Camera Policy and Implementation Program supports law enforcement agencies by funding the purchase of body-worn cameras (BWCs) that are implemented as part of comprehensive BWC programs. Funding can be used to support pilot BWC programs, establish new BWC implementations, or expand existing programs. Apply by May 5.