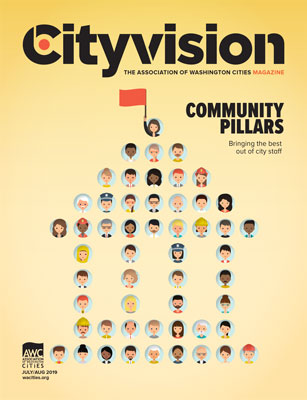 Cityvision features "Team Workers"
In the July/August issue of Cityvision, we feature interviews with four city manager/administrators sharing challenges they've faced and strategies they've put in place as champions of public service. Read what we learned from Charlie Bush of Sequim, Marie Mosley of Kennewick, Cindy Reets of Richland, and Adam Lincoln of Pullman.
Get involved! Apply to serve on state committees
AWC is recruiting candidates for two state committees: the Forensic Investigations Council and the Office of Public Defense Advisory Committee. Visit AWC's website to learn more, including how to apply. Applications due August 28.
Coming soon: State of the Cities survey
Later this year, AWC will produce a publication to communicate the conditions of Washington's cities and towns going into 2020. We know from our advocacy work that city infrastructure continues to fall behind. Cities also feel the impact of state funding cuts (like the Public Works Trust Fund) and policies that negatively impact cities. But we also know that cities help drive a thriving state economy. Your data can help us. Mayors, council, and city managers: Look for a survey in your email inboxes the week of August 19 that will seek to gather information to help tell legislators and others the State of the Cities in 2020.
Public Works Board awards $85 million in loans
This month, the Washington State Public Works Board awarded over $85 million in loans for pre-construction and construction activities for 30 projects across the state. Applicants requested more than $248 million for 74 different projects, and qualifying projects were awarded from a rated and ranked list until all available funds were exhausted. Degraded infrastructure systems, regulatory compliance, and fire flow requirements were among the issues most addressed by loan applicants.
IACC celebrates "30 years of Connecting Communities"


Registration is now open for the 30th annual Infrastructure Assistance Coordinating Council (IACC) Conference, a popular event focused on infrastructure challenges faced by smaller communities throughout Washington. This year's program features more than 50 sessions, three field trips, and the Short Course on Local Planning. A limited number of Tech Team meetings will be scheduled on Tuesday morning for those seeking guidance from funding program staff. On the conference webpage, you'll find detailed session descriptions and instructions for requesting a tech team and nominating a project for an IACC award. Individual registration. Exhibit registration.

Housing Trust Fund soliciting applications for affordable housing projects
The Department of Commerce's Housing Finance Unit is soliciting applications for funds to build new affordable housing units or to acquire existing housing to be converted into affordable housing. Applications are due September 18 and awards will be announced in December. For more information, visit the website or contact Sean Harrington at (360) 725-2995 before August 16.


Looking for a great intern? AWC JobNet is the place to recruit new talent with an average over 11,000 views per month .
All internship postings are free to City Members in 2019! Find your next intern today on AWC.
Featured jobs
City of Renton | City Attorney Prosecution Internship
City of Tukwila | Deputy Community Development Director
City of Yakima | City Engineer


Advocacy is a year-round job
Right now at AWC, we're hard at work taking steps to prepare for 2020, including attending legislator meetings, organizing legislative priorities input, and planning fall advocacy travel around the state. We couldn't do it without you! Check out this year-round advocacy timeline to learn several tips and ideas that you can do to help make a difference, even when the Legislature is adjourned.
Municipal Budgeting & Financial Management Workshop


August 22-23 | Leavenworth
A local government's budget document is important. More than a bunch of numbers, the budget document is your primary tool for prioritizing and addressing your community's needs. It's also a mode of communication to your residents. This popular annual workshop gives both the novice and the expert budgeter the skills to enhance their budget document. Less than one week left! Reserve your spot today!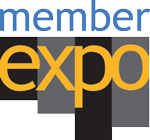 Register now for AWC Member Expo
October 17-18 | Chelan
AWC's Member Expo is the unique opportunity for members of AWC's Member Pooling Programs to come together to gather, share, and learn how to maximize member benefits, programs, and services. This event provides excellent networking opportunities and educational sessions featuring trends, prevention, safety, new laws and legal opinions, and much more. 
Attendance is exclusively for members of AWC Employee Benefit Trust, AWC Risk Management Service Agency, AWC Workers' Comp Retro Program, and AWC Drug & Alcohol Consortium.
AWC trainings & events

August 22-23

Leavenworth

August 28

Yelm

Fall dates

Various locations

September 3

Harrington

September 16

Leavenworth

September 17

Leavenworth

October 17-18

Chelan

December 7

11 streaming locations
Other trainings

August 20

Webinar

September 16

Olympia

September 19

Davenport

September 18-20

Bremerton
Washington Rural Broadband Workshop
September 16 | Olympia
September 19 | Davenport
Join local broadband stakeholders to learn about digital applications, broadband solutions, and federal and state grant and loan programs. This one-day workshop is designed to inform and engage civic leaders, businesses, and community champions, and ultimately help reshape our communities and drive rural prosperity. Registration is free and open to the public, but seating is limited. Pre-registration is required.