Don't miss out on up to 20 years of affordable housing shared revenue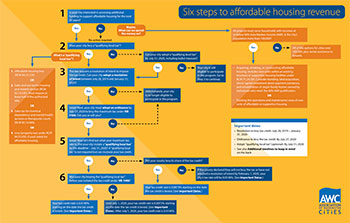 AWC worked with the Legislature in 2019 to create a landmark new revenue sharing program for affordable housing. Your city can use these funds either individually or in coordination with others in your region. Check out our implementation guide to learn the steps you can take so that you don't miss out on this opportunity.
July 12 deadline approaching for Public Works Board loans
The Public Works Board is soliciting applications from cities, counties, and other local governments for construction and pre-construction loans with a July 12 deadline. Awards are based on a competitive process with approximately $68 million set aside for construction loans and $17 million for pre-construction loans. Rating and ranking will start on July 15 and awards will go out in August 2019. More information about how to apply can be found at the Public Works Board website. 
#BeCyberSmart
As part of its new cybersecurity resources, the Washington State Auditor's Office has released a one-page handout describing the top three things a local government can do to respond to the ever-evolving cybersecurity threats to their systems and data.
Housing Trust Fund soliciting applications for affordable housing projects
The Department of Commerce's Housing Finance Unit is soliciting applications for funds to build new affordable housing units or to acquire existing housing to be converted into affordable housing. Applications are due September 18 and awards will be announced in December. For more information, visit the website or contact Sean Harrington at sean.harrington@commerce.wa.gov or (360) 725-2995 before August 16.
Citizens' Institute on Rural Design
The Citizens' Institute on Rural Design offers funding and technical assistance to communities with populations of 50,000 or less to address local economic and quality of life challenges through design solutions. Applications are due July 22.

Public hearings scheduled to discuss new proposed overtime rules
The Washington State Department of Labor and Industries (L&I) has formally filed a proposed rule updating the state's overtime exemption law.  The current overtime exemption rules require most workers to meet a duties test and be paid a minimum salary of at least $455 per week, the equivalent of about $24,000 a year, to qualify. The new proposed rule would significantly raise this salary threshold beginning on July 1, 2020. L&I has begun gathering feedback from stakeholders through a formal rulemaking process, and will be holding a series of public hearings scheduled for July and August across the state. Cities with concerns about the proposed rules should provide feedback to L&I and contact AWC.


Want to see your job posting highlighted here in CityVoice? Boost your job posting's visibility and check out our add-on options including Premium Featured Listings. AWC's JobNet is the place for cities and towns to recruit new talent. Post your job today on AWC JobNet!
Featured jobs
Thurston County | Senior Planner
City of Newcastle | Development Services Coordinator
City of White Salmon | Public Works / Maintenance

Are you Flickr famous?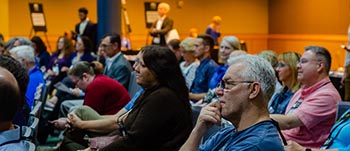 More than 500 attendees from 148 cities and towns took part in AWC's Annual Conference in Spokane this year. Check out AWC on Flickr for photos of the conference. Browse images of sessions, events, exhibitors, and more. You might just see yourself!
Municipal Budgeting & Financial Management Workshop


August 22-23| Leavenworth
A local government's budget document is important. More than a bunch of numbers, the budget document is your primary tool for prioritizing and addressing your community's needs. It's also a mode of communication to your residents. Join us for this popular annual workshop that gives both novice and expert budgeters the skills to enhance their budget document. Register now!
Mayors Exchange 2019 - Fall


September 16 | Leavenworth
Registration now open! Sharpen your skills and expand your network with other mayors from across Washington.
Mayor as CEO 2019


September 17 | Leavenworth
Registration now open! Network and learn about your dual role with other strong mayors from around Washington.
AWC Elected Officials Essentials


December 7 | 11 locations
It's back! Every other year, AWC hosts the popular Elected Officials Essentials to train new and seasoned elected officials. Learn the basic legal obligations and liabilities of elected office, understand statutory roles and responsibilities, and explore what makes the work at city hall so meaningful. This year's hosts will be Arlington, Chelan, Chewelah, Covington, Gig Harbor, Kennewick, Kirkland, Olympia, Spokane Valley, Vancouver, and Yakima. Thank you to all the cities and towns that volunteered to be a site host! Registration opens October 9, 2019.
AWC trainings & events

Positioning your community to attract new business (part of 2019 Elected Officials Essentials webinar series)

August 7

Webinar

August 13

Naches

August 22-23

Leavenworth

August 28

Yelm

September 3

Harrington

September 16

Leavenworth

September 17

Leavenworth

December 7

12 streaming locations
Affordable Housing & Homeless, Part 3: What Cities & Counties Can Do to Address the Homelessness Crisis
August 14 | Webinar
This MRSC webinar will explore the homelessness crisis and offer two case studies about what local governments are doing to address it, including Skagit County's efforts to address homelessness and Olympia's work with temporary encampments. Learn more and register.