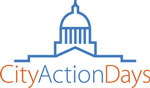 Register for City Action Days!


January 28-29 | Olympia
At just 60 days, the short 2020 legislative session won't last long. Don't miss this critical opportunity to engage legislators at City Action Days! You'll interact with 350 of your colleagues and educate statewide decision-makers about city legislative priorities. Enjoy informative sessions, networking opportunities, and a day of focused Capitol Campus meetings. Start planning now to meet with your legislators while you are in Olympia. Register now! This event begins on the afternoon of January 28 with optional early start sessions.
Update on I-976
Last month, AWC joined a broad coalition in filing a suit, including seeking an injunction, to determine Initiative 976's (I-976) legality. On November 27, the trial court granted the coalition's request for a preliminary injunction on I-976. The injunction will enable local transportation funding to continue to be collected while the court determines the constitutionality of the initiative. On Monday, December 2, the Attorney General filed an appeal of the trial court's order with the State Supreme Court. We are awaiting the Supreme Court's response to this latest action and will provide an update to our members.
Additional I-976 resources:
Washington officials continue to represent on NLC board and committees
Approximately 60 city officials from Washington State attended the National League of Cities (NLC) City Summit November 20-23 in San Antonia, TX. Congratulations to Mayor Andy Ryder, Lacey, and Mayor Victoria Woodards, Tacoma, on their election to the NLC Board of Directors. And thank you to the many Washingtonian city officials who serve on NLC advocacy committees!

Runoff Home Run
Read about how Washington's city leaders can use bioretention to realize a host of benefits, including reducing strain on stormwater systems and increasing urban beautification.
Learn to manage the meeting
Effective mayors and councilmembers are adept at managing public meetings. Build your knowledge and gain confidence by registering for Running great meetings with parliamentary procedures, a workshop preceding City Action Days. Presenter Ann Macfarlane will cover motions, amendments, and voting while giving insights on effective responses to rudeness or obstruction.
How will your residents be counted?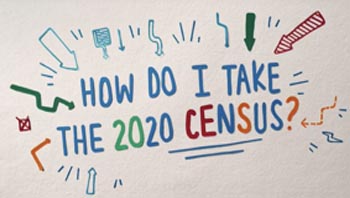 By April 1, 2020, every home will receive an invitation to participate in the 2020 Census. There are three options for responding: online, by phone, or by mail. Watch this new PSA by the U.S. Census Bureau and visit AWC's Census resource page to learn more about the different ways to respond to the 2020 Census.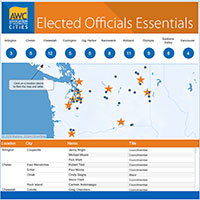 Who's coming to EOE?
We are looking forward to seeing everyone at AWC's Elected Officials Essentials (EOE) this Saturday! Curious about who you're going to see there? Find out which of your friends and colleagues will be attending at each of our 11 locations across the state. Some locations are sold out with a waitlist, but some still have openings. It's not too late! Register now!

View AWC's Initiative 976 webinar
November 22 | Watch now
With the passage of Initiative 976, AWC held a webinar to explain the impacts and requirements of the new law. The webinar recording is available to view.

2019 GIS Consortium project highlights
As 2019 comes to a close, we are taking a moment to look back at a year of great projects completed for the GIS Consortium's 28 city and special district members. Here's a sampling of the GIS and data solutions that helped GIS Consortium members increase internal efficiency, boost citizen engagement, and improve the delivery of services to Washington residents this year.
Census 2020: Ready, set, count!


December 13 | Webinar
In March 2020, communities across the nation will take part in the 2020 Census. With over $600 billion in federal funding and grant money on the line, cities across Washington have already begun preparing to ensure their community will be accurately counted. Join AWC for a webinar to learn about new resources and insights on how the 2020 Census can benefit your city. This webinar is for elected officials, city administrators, and other city leaders. Register now!
AWC trainings & events

December 7

11 streaming locations

December 13

Webinar

January 28

Olympia

January 28-29

Olympia
Other trainings

December dates

Various locations
PWB stakeholder outreach events
December 4 | Olympia
December 16 | Wenatchee
December 18 | Spokane
The Washington State Public Works Board (PWB) will hold three public stakeholder workshops in December to discuss the implementation of Washington's new Broadband Internet Service Access law. More

Department of Justice Office on Violence Against Women


Last reminder: Activate your free job postings before they expire on 12/31/19. Connect with qualified candidates on AWC JobNet using your discount code for free job postings. Get started today!
Featured jobs
City of DuPont | Assistant Finance Director
City of Newcastle | City Clerk
City of Pasco| Permit Technician