Cities on Tap
AWC is excited to introduce Cities on Tap, a brand-new event for Washington's city leaders. Held in 11 cities across the state in September and October, Cities on Tap is a revamped and reimagined take on Regional Meetings. This new event is more than just a name change: Cities on Tap will bring vital information and networking opportunities to Washington's city leaders in an energetic, informal environment. Registration opens August 7.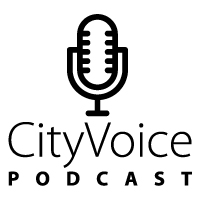 S01E13: Industrial symbiosis
Join us for this special episode of the CityVoice Podcast, recorded at AWC's Annual Conference in Spokane. We sat down with Rhys Roth, Director of the Center for Sustainable Infrastructure to learn how Washington cities can become environmentally friendly economic hubs through "industrial symbiosis."
Growing the Green Economy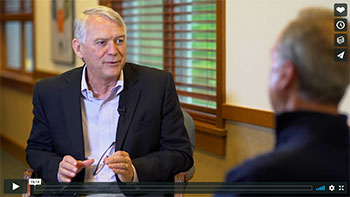 In this interview with AWC's Andy Meyer, Paul Roberts talks about the new report: Growing the Green Economy in Washington State, shares key findings, and suggests steps local officials need to take to lead their communities in the future.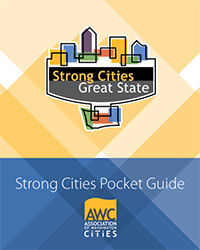 For summer tips, check your Pocket Guide
Summer is a great time to invite your local legislators out to tour your community – show them the construction projects you are working on, talk to them about what your focus will be during your upcoming budgeting process, and reinforce the importance of cities and the state partnering to create successful communities. Check your Strong Cities Pocket Guide for more tips to take advantage of the interim.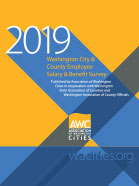 Salary Survey 2019 is here!
The much-anticipated 2019 AWC City and County Salary and Benefits Survey is now available. This AWC member service provides city and county officials with comparable data to help them determine equitable wages and benefits for their staff. This year, 36 of 39 counties and 257 of the state's 281 cities and towns provided data for the survey – a combined 92% participation rate. This online tool is available only to those who represent management. Unions, individual employees, or non-members can purchase a copy of the printed report for $200, plus tax.


AWC's JobNet is the place for cities and towns to post job openings. Prices for AWC JobNet ad postings vary based on AWC membership. Cities get job postings for as low as $35 and Associate Members for as low as $70 when purchased as a 10-pack. Great jobs. Strong candidates. Low cost.
Featured jobs
City of Sequim| Development Review Engineer
City of Mount Vernon| Human Resources Analyst  
City of Brewster| Lateral Police Officer

Municipal Labor Program for People Experiencing Homelessness
The Washington State Department of Commerce is soliciting applications from municipalities to design and implement a new labor program, or expand an existing program that provides jobs to individuals experiencing homelessness which leads to full-time employment and stable housing. The RFP is open to any Washington state municipality and applicants much match at least 25% of total budget request. Applications are due August 15.
New housing revenues and tools
August 6 | Webinar
In 2019, the Legislature passed several bills focused on affordable housing.  This webinar explores three bills that created new tools and revenue options for cities. Presenters will discuss the options and considerations for the use of these new tools and revenue options that will support mayors and councilmembers, city managers, planning directors, and other city staff working on affordable housing for their community. The webinar is free for AWC members.
Positioning your community to attract new business the Idea Friendly way


August 7 | Webinar
Becky McCray from SAVEYOUR.town is the presenter for this webinar, which is part of the 2019 Elected Officials Essentials webinar series. You've heard all the standard business attraction advice, how to position yourself just like all the other towns. It's time for some fresh strategies. What if you started from making your community open to new ideas? How attractive would that make your community to entrepreneurs? Register now to learn how to make your town more Idea Friendly. You'll be on your way to being the kind of town that grows its own people into successful entrepreneurs and that new businesses can't wait to join. If you missed Becky McCray's lively presentation at the 2018 annual conference in Yakima, check out this video for a preview. 
Municipal Budgeting & Financial Management Workshop


August 22-23| Leavenworth
A local government's budget document is important. More than a bunch of numbers, the budget document is your primary tool for prioritizing and addressing your community's needs. It's also a mode of communication to your residents. Join us for this popular annual workshop that gives both novice and expert budgeters the skills to enhance their budget document. Register now!
Mayors Exchange 2019 - Fall


September 16 | Leavenworth
Registration now open! Sharpen your skills and expand your network with other mayors from across Washington.
Mayor as CEO 2019


September 17 | Leavenworth
Registration now open! Network and learn about your dual role with other strong mayors from around Washington.
AWC trainings & events

August 6

Webinar

Positioning your community to attract new business the Idea Friendly way (part of 2019 Elected Officials Essentials webinar series)

August 7

Webinar

August 13

Naches

August 22-23

Leavenworth

August 28

Yelm

September and October dates

Various locations

September 3

Harrington

September 16

Leavenworth

September 17

Leavenworth

December 7

11 streaming locations