Nominating Committee forwards AWC Board of Director candidates to membership
Don't miss the AWC Business Meeting, June 27, to elect your AWC Board of Directors – the people who guide your association's activities. Check out the Nominating Committee's most recent report to see who is running and read the candidate statements.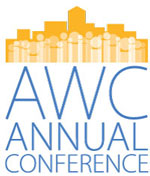 More than 500 gather in Spokane for AWC's Annual Conference 
Representatives from 148 cities and towns across Washington are in Spokane this week for the AWC Annual Conference, where city leaders and others gather to discuss the issues facing our cities. In addition to the Business Meeting, conference goers attend presentations on pressing city issues including affordable housing, rate setting, public records and effective leadership.
Follow us on social media during Annual Conference! 
AWC Annual Conference is live and bustling in Spokane! Follow along with the latest happenings and session highlights on Twitter or Facebook. #WAcities
Download the Annual Conference app
Get all your Annual Conference information in one place! Download the app to see conference program details, review session materials, read speaker bios, and access exhibitor and sponsor information.
Public Works Board loans
The Public Works Board is soliciting applications for construction and pre-construction loans with a deadline of July 12. Awards are based on a competitive process with approximately $68 million set aside for construction loans and $17 million for pre-construction loans. Rating and ranking will start on July 15 and awards will go out in August 2019.
Cities, counties, and other local governments are eligible to receive funds for use on infrastructure projects that include domestic water projects, roads and streets, bridges, sanitary sewer, solid waste and recycling, and stormwater facilities. More information about how to apply can be found at the Public Works Board website. 

AWC files amicus in support of city rights-of-way in FCC legal challenge
On June 17, AWC filed an amicus brief in support of cities' ability to govern public rights-of-way and local decision-making authority in the consolidated legal challenges to the FCC declaratory ruling on siting of small cell wireless facilities in the U.S. Court of Appeals for the 9th Circuit. The FCC ruling could preempt local decision-making authority in a number of ways, including shortened time clocks for city permitting processes, new requirements for collocation of equipment, and limits on consideration of aesthetic standards. Check out the AWC Annual Conference session, Small cell siting challenges and FCC update, on Thursday, June 27 for more information.  


Find great job candidates! AWC JobNet is the place to list career opportunities in Washington's cities and towns, other local governments, and state agencies. With more than 11,000 visitor hits per month, AWC JobNet connects you with quality candidates. Post your job today on AWC JobNet!
Featured jobs
City of Des Moines| Deputy Finance Director  
City of Ridgefield| Engineering Technician   
City of Olympia| Fiscal Services Accounting Manager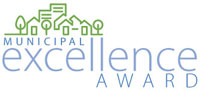 Spotlight on Municipal Excellence Award winners
AWC honored five cities with Municipal Excellence Awards today at Annual Conference. Take a few minutes to check out videos of this year's winners now featured on our Open Data Portal. Our new Municipal Excellence Award data map includes winners over the years along with project highlights and tips for how you can apply the winning ideas in your own community. More
Municipal budgeting & financial management workshop


August 22-23| Leavenworth
A local government's budget document is important. More than a bunch of numbers, the budget document is your primary tool for prioritizing and addressing your community's needs. It's also a mode of communication to your residents. Join us for this popular annual workshop that gives both novice and expert budgeters the skills to enhance their budget document. Register now!
Mayors Exchange 2019 - Fall


September 16 | Leavenworth
Registration now open! Sharpen your skills and expand your network with other mayors from across Washington.
Mayor as CEO 2019


September 17 | Leavenworth
Registration now open! Network and learn about your dual role with other strong mayors from around Washington.
AWC Elected Officials Essentials


December 7 | 11 locations
It's back! Every other year, AWC hosts the popular Elected Officials Essentials to train new and seasoned elected officials. Learn the basic legal obligations and liabilities of elected office, understand statutory roles and responsibilities, and explore what makes the work at city hall so meaningful. This year's hosts will be Arlington, Chelan, Chewelah, Covington, Gig Harbor, Kennewick, Kirkland, Olympia, Spokane Valley, Vancouver, and Yakima. Thank you to all the cities and towns that volunteered to be a site host!
AWC trainings & events

June 25-28

Spokane

August 22-23

Leavenworth

September 16

Leavenworth

September 17

Leavenworth

December 7

12 streaming locations
Other trainings

July 8

Bellevue

July 10

Webinar

July 11

Webinar

July 23

Webinar

August 20

Webinar
Supreme Court Police Cases
July 10 | Webinar
The Supreme Court decided no shortage of police cases this term. Topics covered range from forfeitures to fabrication of evidence to First Amendment retaliatory arrest. Join a discussion of the impact of all the police cases on states and local governments. Webinar begins at 10 am. Register
Land Use Case Law Update


July 11 | Webinar
This webinar examines recent land use cases and provides practical advice and guidance to help local governments improve their land use regulation and permit review processes. Offers 1.0 CLE and Legal CM credit and is eligible for CML. Webinar takes place 11 am – noon. Register by noon on July 10; $35.
Supreme Court Review
July 23 | Webinar
The census citizenship question case and the Maryland and North Carolina partisan gerrymandering cases are expected to be the blockbusters of the current Supreme Court term for states and local governments. Join the attorneys who wrote the briefs in a discussion of these cases and other cases of interest to states and local governments on topics, including religious displays on public property, takings, alcohol regulation, and employment. Webinar begins at 10 am. Register
How to Make Your Job Easier Using MRSC's Services
August 20 | Webinar
Work smarter. Save money. Get answers. MRSC's suite of local government services can help you, no matter what department you work in. This webinar, including live demonstrations, will provide a comprehensive overview of MRSC's tools, resources, and information for local governments. Webinar takes place 11 am – noon. Free.