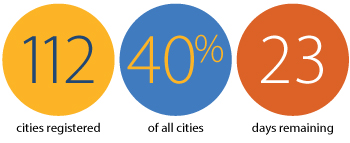 Annual Conference has something for everyone!
June 23-26 | Online
Once you have the main events on your calendar, block out time to expand your knowledge even more through a variety of educational sessions. Learn how to master meetings using Robert's Rules of Order, create an effective year-round advocacy program, develop a social media plan for your small town, and lead optimistically through times of uncertainty. Stay tuned for more! In the meantime, check out the conference map to see who is already registered and which cities will be represented. Registration is free for AWC members, so register today!
Submit your city's voting delegates for the AWC Business Meeting
Remember to submit your city's voting delegates for the AWC Business Meeting taking place on Thursday, June 25 from 10 am to noon. Each city may select up to three voting delegates – either elected officials or staff. Use this online form to submit names and titles by 5 pm on June 23. Visit the Business Meeting page to find more information or to check the voting delegates we have on file.
Meet the 2020 CQC scholarship winners!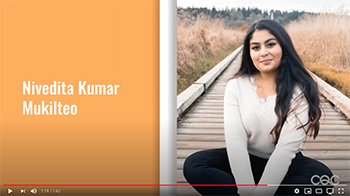 Your donations make the Center for Quality Communities scholarships possible. Learn more about this year's scholarship recipients and donate today.
Civic Service Awards for 20-year service to cities
Each year, AWC recognizes city officials retiring after 20 or more years of service to cities. Elected officials, city managers and administrators, city clerks, senior department directors, and city attorneys who have retired since the 2019 AWC Annual Conference or who will retire by December 31, 2020 are eligible for AWC's Civic Service Award. Let us know of any eligible city officials by June 12.
Race, Equity, and Leadership resources
NLC's Race, Equity, and Leadership (REAL) initiative aims to strengthen local leaders' knowledge and capacity to eliminate racial disparities, heal racial divisions, and build more equitable communities. The REAL program has many resources to read and share.
Treasury Department releases updated CARES funding FAQ 
On May 28, the Treasury Department released updated guidance on the use of CARES Act funds. The guidance provides new details on the use of funds for rural broadband capacity, increased solid waste capacity, and hazard pay, as well as additional information on the Single Audit Act. We encourage all cities to review these newly released guidelines when considering spending CARES Act funds distributed by the state. 
OPMA and PRA waivers and suspensions extended to June 17 
On May 29, the Governor issued a proclamation extending waivers and suspensions for the Public Records Act (PRA) and Open Public Meetings Act (OPMA) until June 17. A significant change in this proclamation is that governing bodies are no longer limited in what matters they may take action on. The Attorney General's Office released this updated guidance. We encourage cities to review the proclamation and guidance with their legal counsel. This MRSC blog post offers suggestions for cities in the event the waivers and suspensions are not extended beyond June 17. 
State Auditor announces extension of annual filing deadline to June 17
A limited extension of the deadline to file annual financial reports has been approved by legislative leadership. The new filing deadline is June 17 and no further extensions are expected. The State Auditor encourages cities to file as soon as possible. For more information and resources, visit the State Auditor's site.
AWB launches website to help Washington get back to business
The Association of Washington Business (AWB) announced a new website aimed at helping Washington businesses safely welcome back employees and customers. The website features an online portal to connect Washington businesses with "Made in Washington" manufacturers of personal protective equipment (PPE), plus a toolkit to help small businesses prepare their physical spaces for reopening and communicate new health and safety protocols to employees and customers.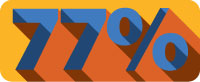 77% of cities list a lack of low-income and affordable housing as a problem in their community
Cities face two complex challenges that intertwine: lack of affordable housing and increased homelessness. In the last five years, cities have increasingly been asked to handle service areas that fall outside of their traditional areas of fiscal responsibility, such as homelessness and behavioral health response. Both are exacerbated by the affordable housing crisis happening across the state. Read more in our chapter on affordable housing & homelessness in the 2020 State of the Cities report.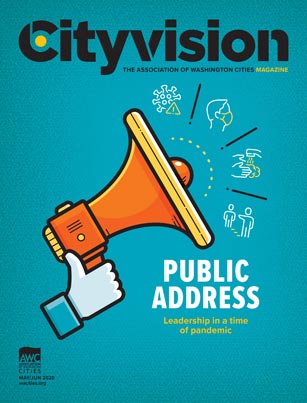 Public address: Leadership in a time of pandemic
Washington was the first state in the country hit with the COVID-19 pandemic. Without the benefit of hindsight and with no protocols in place, city leaders are having to make difficult decisions. Hear stories of leadership, how communities are coming together, and how volunteers are stepping up in the latest issue of Cityvision magazine.

We need your help to develop AWC's legislative priorities
Please take 5 to 10 minutes to complete the 2021 Legislative Priorities Survey. Your response will help inform AWC's Legislative Priorities Committee as it develops next year's legislative agenda and recommends it to the AWC Board of Directors this fall. The survey deadline is June 12. We look forward to hearing from you!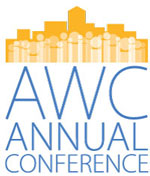 AWC Annual Conference


June 23-26 | Online
AWC Annual Conference is moving its city-focused agenda to an online format. Conference registration is free for AWC city members and offers 10 credits toward the Certificate of Municipal Leadership for elected officials. Educational sessions kick off on June 23 and will be available to all conference registrants through the end of the year. Register today!
AWC trainings & events

June 23-26

Online
Public Works Board announces June broadband infrastructure webinars
The Public Works Board is hosting two webinars on broadband infrastructure this month. A stakeholder roundtable is set for June 17 to provide an update on the broadband program, discuss completed work, and set goals for future policy development and implementation. A June 18 workshop on broadband construction funding will offer guidance on how to complete a successful application.

Transportation Improvement Board online funding workshops
The Transportation Improvement Board (TIB) will conduct its funding workshops online this year. Workshops for both smaller and larger cities will take place on June 8. Find more information on the TIB training page.
Building Community Funds Grant open for applications 
Building Community Funds (BCF) Grant applications for the 2021-2023 cycle are now open. BCF Grants cover up to 25% of eligible capital costs for nonresidential community service centers. Applications are due August 27, and a free application workshop is scheduled for June 15.
Commerce extends deadlines for two community capital programs
The Department of Commerce announced that the Youth Recreational Facilities (YRF) and Building for the Arts (BFA) grant programs are extending the due date for application submissions. YRF applications are now due July 23, and BFA applications are now due August 6. 


Have you activated your free job postings? As an AWC Member you receive free job postings based on your membership type. Reminder: the codes expire on December 31, 2020. Get started today!
Featured jobs:
City of Palouse | Public Works Superintendent
City of Issaquah | Deputy Finance Director
City of Olympia | Downtown Ambassador