Send your city's voting delegates to the AWC annual Business Meeting
Mark your calendar for AWC's Business Meeting on Thursday, June 27. This important meeting takes place in Spokane in conjunction with our Annual Conference. Your city can designate three voting delegates to vote on important issues on your city's behalf. To designate your voting delegates, complete the voting delegate form on the AWC website by June 21. If you have any questions, please contact Michelle Fry.
LRI photos are here!



Human resources professionals from across the state recently met in Yakima to learn, share, and explore the latest human resources and labor relations legal updates and practical strategies. The photos are in! Check out the pictures from AWC's 2019 Labor Relations Institute.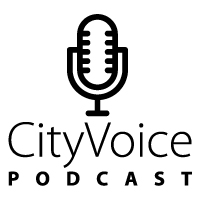 CityVoice Podcast: Drugs and the workplace
We sit down with AWC's Carol Wilmes to discuss how drugs and alcohol are impacting municipal workplaces across our state. Find out what counts as "reasonable suspicion," who is subject to random drug testing, and more.
Apply today to host an Elected Officials Essentials workshop satellite event
Following municipal elections every other year, AWC offers its signature Elected Officials Essentials workshop at 12 locations across the state. This year's Elected Officials Essentials workshop takes place on Saturday, December 7, and we are looking for host locations. Visit our event page for complete details and to complete a survey indicating your interest in hosting. NOTE: We have extended the response deadline to May 15.
As an event host, you can get a jump on partnering with neighboring jurisdictions and developing relationships with their newly-elected leaders—all while showcasing your city and everything that it has to offer!
Running for city council?
If you or someone you know is interested in running for office, now is the time to make it official. May 13 through 17 is official Candidate Filing Week. Review AWC's list of important dates and key resources to make sure you are ready.
2018 lodging tax report deadline approaching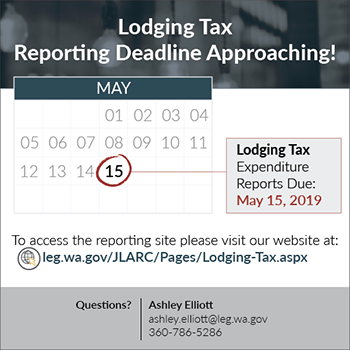 The deadline for mandatory reporting of 2018 lodging tax expenditure data is May 15, 2019. Cities and counties that collect lodging tax are required to report annual expenditures to the Joint Legislative Audit & Review Committee's (JLARC) website. If your city has not yet completed its report, please submit the data by the May 15 deadline.

Legislative Session Hot Sheet Recap
AWC produced weekly bill Hot Sheets this session to keep you and the legislators apprised of bills that cities supported, opposed, or were monitoring for amendments. We have compiled all of those bills and what happened to them into a Final 2019 Session Recap so you can see how those bills fared at the end of session. Keep in mind that bills that passed may still need to be signed by the Governor and bills that died will likely be back again in 2020.


Looking for a great intern? AWC JobNet is the place to recruit new talent with an average of over 11,000 views per month. All internship postings are free to City Members in 2019! Find your next intern today on AWC.
City of Ritzville| Public Works Director
City of Issaquah| City Administrator
City of Mercer Island| City Attorney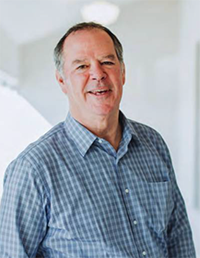 Cityvision highlight
Cityvision magazine's feature article examines technology-driven disruptions. Learn how Chelan is dealing with a changing local housing market and how the City of Sammamish is responding to a crippling ransomware attack.
Aligning your resources with your city's strategic goals


May 22 | Webinar
Explore how to effectively link the community's goals to the resources needed to efficiently accomplish them. Leave equipped to ask the right questions to arrive at the best policy choice options, find the right information to help you make the best decisions on aligning resources and strategies, get support for your ideas from within your policy body and from your community, and work with others in your organization to align resources to progress. Register today!
2019 Legislative wrap-up and look ahead to 2020
May 29 | Webinar
The 2019 Legislative Session concluded at the end of April. Join the AWC Advocacy team for an informative recap of city-related issues. Get caught up on key outcomes of the 2019 session, learn how city priorities fared during session, and discover how you can make the most impact during the legislative interim and prepare for 2020. Event is free but registration is required.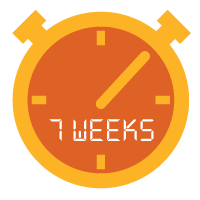 Countdown to Annual Conference
June 25-28 | Spokane
It's the countdown to AWC Annual Conference! Check here weekly to catch highlights of what you can expect at this year's conference. You won't want to miss it!
Other trainings

Various dates

Various locations

May 29-30

Spokane

May 29

Tumwater

June 6

Moses Lake

May 29, June 18

Spokane, Lynnwood
Homeownership Program Design: A Municipal Perspective
May 22, 29, June 5, 12 | Webinar
The City of Seattle Office of Housing's Senior Homeownership Specialist, Erika Malone, a national expert in creating and preserving permanently affordable homeownership opportunities, will be conducting this four-week virtual training course in conjunction with Grounded Solutions Network starting on Wednesday, May 22. This course is intended for both policy makers and municipal program staff, as well as those who partner or contract with municipalities, and it focuses on program design and implementation considerations. The ideal participant is either just developing a permanently affordable homeownership program or is in the process of evaluating and improving an existing program. The cost for this course is $170 for Grounded Solutions members and $220 for non-members. Deadline to register is May 19.
Tapping into the Green Economy
June 6-7 | Sequim
This regional workshop will bring together a mix of regional and international leaders in the areas of business, research, Tribal, and educational expertise as it relates to the green economy in the Pacific NW region. Participants can expect direct engagement with the speakers and regional peers to generate and leave with new ideas to develop a personal and regional action plan. Presentation tracks include: Regional Climate Change, Research & Development, Green Manufacturing, Food Waste & Recycling, Ecotourism, Green Partnerships, and next steps designed to continue the momentum and actions post-workshop. The cost is $135 and the deadline to register is May 28.
Grant Writing Workshop
June 6-7 | Burien
The Washington State Criminal Justice Training Commission and Grant Writing USA is collaborating to present a two-day grants workshop appropriate for all city, county and state offices as well as area educators and non-profits. Beginning and experienced grant writers are encouraged to attend. Tuition is $455 and CEU credits are available.