Coronavirus (COVID-19) resources available
Several agencies and organizations have compiled resources and tools for responding to COVID-19: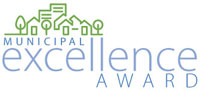 Apply to win an AWC Municipal Excellence Award!
Does your city have an innovative project or program centered on race & equity or sustainability? If so, tell us about it! Your city could gain recognition through an AWC Municipal Excellence Award, and other cities could be informed and inspired by your approach to building community and solving local problems together. See all of the award categories, along with examples of past winners, on our website. The March 13 deadline is approaching, and applying is easy.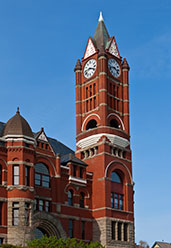 Jefferson County receives Retro refund
AWC CEO Peter King presented a refund check for more than $53,000 at the Jefferson County Board of Commissioners meeting earlier this week. Jefferson County is a member of the AWC Workers' Comp Retro Program, which this year distributed $1.5 million in refunds to 115 local jurisdictions across Washington — the largest refund in its 15-year history. Refunds are disbursed based on workers' compensation claims within each jurisdiction.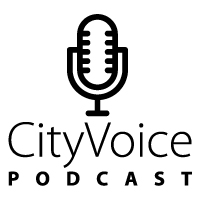 CityVoice podcast: Medication-assisted treatment in city jails
This episode of the podcast focuses on one of this year's legislative priorities: medication-assisted treatment for incarcerated individuals with opioid use disorder. We sit down with Jessica Blose and Tony Walton, two representatives from the Washington State Health Care Authority, to get a clearer picture of the opioid crisis in Washington. We also talk with AWC's own Sharon Swanson to learn how city-owned jails are affected.
Get ready for NLC's Congressional City Conference!
AWC leadership and about 75 Washington city officials are headed off to Washington, D.C. next week to advocate for federal priorities that support our cities. Follow us on Twitter March 8-11 to see updates. If you're attending, check your inbox for an email from AWC CEO Peter King with final trip tools and information.
Apply now for the AWC Board of Directors
The 2020 AWC Nominating Committee is calling for applications for the even-numbered and At-Large #1 (Western) AWC Board of Director positions. Gain an overview of director responsibilities and learn who is eligible, how to apply, and all about the nomination process. Applications are due March 22.
Census 2020 resources
Census 2020 has begun! NLC has a number of resources that can be utilized by local governments to help Get Out The Count.

Great employees are the key to providing excellent city services.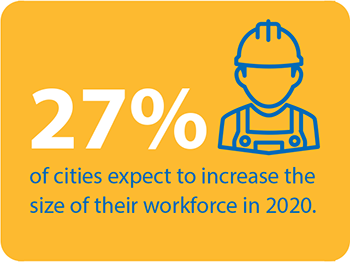 Read this chapter of the 2020 State of the Cities to learn more about how cities struggle to pay the rising costs of human resources.
Welcome, newly elected officials
Congratulations to all the new mayors and councilmembers. Welcome to the city family! Through trainings, resources, and publications, AWC is here to help you develop as a municipal leader. For your first 100 days, we'll highlight some of your AWC Elected Officials Essentials here in CityVoice.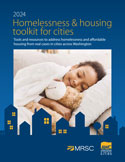 Homelessness & housing toolkit for cities
Cities of every size are grappling with increasing homelessness and a lack of affordable housing. This publication provides real-world examples of tools and actions Washington cities have used in responding to the issues of homelessness and affordable housing. The toolkit includes articles on housing levies, tenant protections, tax exemptions, regional coalitions, emergency rental assistance, and more.

Apply for a CDBG General Purpose Grant
The Department of Commerce is accepting applications for Community Development Block Grants (CDBG) General Purpose Grants to rural cities and towns in Washington. These grants are made available annually to assist small cities, towns, and counties in carrying out significant community and economic development projects that principally benefit low- and moderate-income persons. The application period is open until June 3.
Electrification of Transportation Systems Grant – Letters of intent due Thursday
The Electrification of Transportation Systems (ETS) provides grants for electric vehicle charging infrastructure, with an emphasis on addressing the needs of highly impacted communities and vulnerable populations. Applicants must submit letters of intent through the Commerce ZoomGrants page by this Thursday, March 5 at 3 pm.
NLC offers $1.6 million in Census funding
The National League of Cities has launched its $1.6 million Census Rapid Response Grant Program. This program delivers urgent financial resources to cities and their local partners to improve or increase Get Out The Count activities in order to reach historically undercounted communities. Proposals accepted on a rolling basis until all funds are granted, or by July 31, whichever comes first.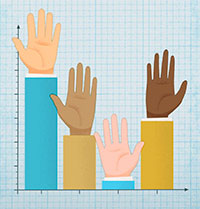 Citywise: Common Census
The decennial Census is a mammoth undertaking that requires years of federal planning and preparation. City leaders can lay the groundwork for an accurate count in three ways: collaborating with the Census Bureau, integrating city and municipal departments, and involving their community through Complete Count Committees. Read more in the latest issue of Cityvision.

We are in the homestretch for the 2020 session
With just days left in the legislative session, the action is happening very quickly. It's the final race to the finish line for policy bills. See AWC's updated Hot Sheet for bills still in play that affect cities. With focus on budget negotiations, now is also a very good time to let your legislators know what cities need in the final budgets. Read the letter we sent to budget leaders highlighting our priorities and then contact your local legislators to ask for their support! More
Highlights from Monday's Legislative Bulletin:
Supplemental budget updates with some twists and turns. More
Ask your senators to pass HB 1590 and give cities tools to address the housing crisis. More
A mention in the House budget keeps hope alive for additional Local Revitalization Financing (LRF) funding from the state. More
Fundamentals of municipal budget cycles


March 6 | Webinar
Learn the fundamentals of the municipal budgeting cycle and master the budgeting process! Newly elected officials often face frustrations when coming into office as the budget has already been set by predecessors. This webinar explores how to master the basics of budgeting for a newly elected official and for staff who support newly elected officials.
Legislative wrap-up


March 19 | Webinar
Join the AWC Advocacy Team for an informative recap of city-related issues from the 2020 legislative session. Get a firsthand look at the outcomes of our seven legislative priorities along with other key outcomes of the 2020 session, which is set to conclude on March 12.
Drug & Alcohol Supervisor training
March/April dates | Multiple locations
Employee situations that may involve drugs or alcohol can be tricky – would your supervisors know what to do? U.S. Department of Transportation regulations mandate that all supervisors of CDL employees, transit or gas utility workers, or any employee who might consult on a reasonable suspicion determination receive one hour of training in drug awareness and one hour of training in alcohol abuse. Make sure all supervisors in your jurisdiction are properly trained with this popular AWC training.
AWC trainings & events

March 6

Webinar

March 16

Buckley

March 18

Long Beach

March 18-19

Lynnwood

March 19

Webinar

March/April dates

Multiple locations

March 20

Webinar

March 26

Webinar

May 6-8

Yakima
Other trainings

March 5 & 17

Webinar

March 9-10

Spokane/Newman Lake

March dates

Multiple locations

March 25

Lacey

March-June dates

Multiple locations

March/April dates

Multiple locations

April 14-15

Hood River, OR
Public Works Board regional trainings
March-June dates | Multiple locations
Registration is open for the Public Works Board's 2020 regional trainings. Four free training events offer a mix of concept presentation and group practice for effective infrastructure system management. Two of the training events offer a second day to focus on community partnerships, economic development, and community revitalization.
Pacific Northwest Rail Conference
April 14-15 | Hood River, OR
20/20 Vision: Future in Focus brings together a combination of experts for in-depth presentations and discussions on timely railroad safety issues. Learn about coordination and cooperation opportunities, relevant trends, innovative approaches, emerging technology, enforcement techniques, and critical challenges. Early bird registration is open through March 15.


AWC JobNet has a singular focus on careers in local government, connecting city employers to highly qualified and relevant job seekers. Enhance your efforts to find great talent – make JobNet part of your overall recruiting strategy!
Featured jobs:
City of Kennewick| Public Works Contract/Office Administrator
City of Kelso | Assistant City Engineer