2020 WellCities announced
Congratulations to 114 dedicated employers that earned the 2020 WellCity Award! The AWC Employee Benefit Trust's annual WellCity Awards recognize members that meet nine best practice standards for employee health promotion. 2020 WellCities receive a 2% premium discount on all 2021 medical premiums. See who earned the 2020 WellCity Award.
AWC Annual Conference: Last call for proposals!
Have a great idea that you would like to share at AWC's Annual Conference in Kennewick in June? There is still time to submit a proposal! Share your city's stories, programs, and partnership innovations and educate hundreds of local elected officials, city department directors, staff, and decision-makers. The last review for this year's annual conference will be in early April. Submit your proposals now!
Save the date: Labor Relations Institute


May 6-8 | Yakima
Mark your calendars to attend AWC's 40th annual Labor Relations Institute – the premier training event for public sector human resources and labor relations professionals. The agenda is structured to inform and inspire. Enhance your skills and better understand the current legal landscape; navigate emerging trends; learn to solve unique problems and improve employee-management relations; and meet and learn from leading service and product providers. Registration opens March 11. Attendance at LRI is limited to those who solely represent the interests of management.
Apply now for the AWC Board of Directors
The 2020 AWC Nominating Committee is calling for applications for the even-numbered and At-Large #1 (Western) AWC Board of Director positions. Gain an overview of director responsibilities and learn who is eligible, how to apply, and all about the nomination process. Applications are due March 22.
Register for Friday's webinar: Introduction to the Clean Energy Transformation Act
February 28 | Webinar
The Clean Energy Transformation Act (CETA) commits Washington to an electricity supply free of greenhouse gas emissions by 2045. Many cities own and operate their own electric utilities. CETA will affect the way city-owned electric utilities produce electricity. This webinar will discuss the ways CETA impacts utilities' rate setting and financial obligations for low-income users, as well as the several deadlines municipal electric utilities must comply with to avoid large penalties.
Nominate a student in your community for a CQC scholarship!


AWC's Center for Quality Communities scholarships are now available for outstanding young leaders in Washington's cities and towns. Your city can nominate one young leader who plans to attend college or a trade school this fall. Up to six $1,500 scholarships may be awarded in May to graduating high school students. Nominations are due March 9.

Did you know…


Read this State of the Cities chapter to discover how cities are doing their part to address public safety needs.
Welcome, newly elected officials
Congratulations to all the new mayors and councilmembers. Welcome to the city family! Through trainings, resources, and publications, AWC is here to help you develop as a municipal leader. For your first 100 days, we'll highlight some of your AWC Elected Officials Essentials here in CityVoice.
What is a city? An overview of Washington cities' functions and services


This eLearning module provides a brief introduction to how cities operate. Examine building blocks, forms of government, public policy, budgeting, and city services. A great learning tool for new city staff and elected officials, community members, teachers, and others!

Grant writing workshop
March 9-10 | Spokane/Newman Lake
Spokane County Sheriff's Office and Grant Writing USA present this two-day grant writing workshop for beginning and experienced grant writers alike. AWC members are eligible for a special tuition rate. Use discount code "ASSN" to receive a $30 registration discount.
Adult Drug Court and Veterans Treatment Court Discretionary Grant Program
The Department of Justice's Bureau of Justice Assistance is offering close to $750 million in grants toward financial and technical assistance to enhance the operations of adult drug courts or implement new veterans treatment courts. Deadline to apply is May 14.
Comprehensive Opioid, Stimulant, and Substance Abuse Program grants
The Bureau of Justice Assistance is also offering up to $156 million in grants as part of the Comprehensive Opioid, Stimulant, and Substance Abuse Program. The program provides financial and technical assistance to state and local governments to develop and implement comprehensive efforts to identify, treat, and support those impacted by illicit opioids, stimulants, and other drugs of abuse. Applications accepted through May 21.

Municipal Excellence Awards: Need inspiration? Learn about past winners!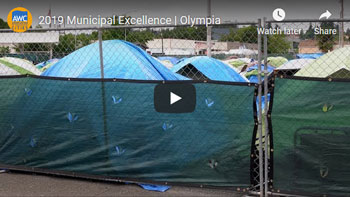 The deadline is approaching – and applying is easy! Check out these videos that tell the stories of the 2019 Municipal Excellence Award winners. For example, the City of Olympia won for their mobile Crisis Response Unit, which goes beyond traditional policing to help community members experiencing mental health crisis. AWC's Municipal Excellence Awards bring statewide recognition to innovative cities in the categories of program, project, small city success, race & equity, and sustainability. Apply now! Deadline is March 13.

Budget Alert: Read what's in the Legislature's proposed budgets & how they impact cities
The House and Senate have both released their supplemental budget proposals for the capital, transportation, and operating budgets. The proposals include a variety of expenditures that impact cities. Read more of the budget highlights and how they impact cities and see our detailed budget matrix that compares the budgets line-by-line.
Popular highlights from Monday's Legislative Bulletin:
Good housing bills advance, preemption bills lose momentum, but MFTE bill appears dead. More
Bill establishes pilot program for vacating 8.4 million criminal convictions. More
Bill adjusts conflict of interest rules for small cities. More
ADU preemption bills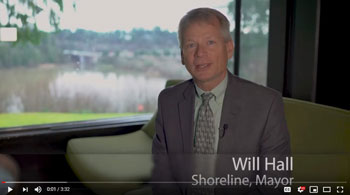 At City Action Days in January, we sat down with Shoreline Mayor Will Hall to hear his take on companion Accessory Dwelling Unit (ADU) bills in play this session. Hear what he had to say and how the bills impact his community.
Fundamentals of municipal budget cycles


March 6 | Webinar
Learn the fundamentals of the municipal budgeting cycle and master the budgeting process! Newly elected officials often face frustrations when coming into office as the budget has already been set by predecessors. This webinar explores how to master the basics of budgeting for a newly elected official and for staff who support newly elected officials.
Legislative wrap-up


March 19 | Webinar
Join the AWC Advocacy Team for an informative recap of city-related issues from the 2020 legislative session. Get a firsthand look at the outcomes of our seven legislative priorities along with other key outcomes of the 2020 session, which is set to conclude on March 12.
Impacts of HB 1071: Protecting personal info


March 26 | Webinar
Local governments should be aware of the expansion of the state's data breach notification law. New updates take effect on March 1, expanding requirements on what type of data triggers a data breach notification and shortening the amount of time that government has to respond. Learn more in this webinar.
AWC trainings & events

February 28

Webinar

March 6

Webinar

March 16

Buckley

March 18

Long Beach

March 18-19

Lynnwood

March 19

Webinar

March 20

Webinar

March 26

Webinar

May 6-8

Yakima
Other trainings

March 3-5

Lacey

March 5 & 17

Webinar

March 9-10

Spokane/Newman Lake

Multiple dates (March)

Multiple locations

March 25

Lacey

Multiple dates (March/April)

Multiple locations
WAPELRA Spring Training
March 25 | Lacey
The WAPELRA Spring Training offers human resources and labor relations professionals an opportunity to learn and network together. This year's event provides three separate presentations by legal experts from three firms which specialize in public sector HR and labor relations.


Looking for a great intern? All internship postings are free to City Members in 2020! Find your next intern today. Details on AWC JobNet.
Featured jobs:
City of Pasco | Senior Civil Engineer
City of Lacey | Assistant City Manager
City of Renton | Budget and Accounting Manager