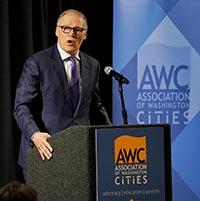 Thank you for making City Action Days 2020 a success
Nearly 400 attendees representing over 115 cities converged on Olympia this week to advocate for Washington cities. The educational sessions, networking opportunities, and legislator visits all helped make for strong cities and a great state. Big thanks to Gov. Inslee, Sens. Schoesler, Dhingra, and King, and Reps. Sullivan, Griffey, and Fey for taking time to share their perspectives on the 2020 legislative session. Mark your calendars for CAD 2021: February 10-11 in Olympia.
Apply now for the AWC Board of Directors
The 2020 AWC Nominating Committee is calling for applications for the even-numbered and At-Large #1 (Western) AWC Board of Director positions. Gain an overview of director responsibilities and learn who can apply, how to apply, and all about the nomination process. Applications are due March 22.
Nominate a student in your community for a CQC scholarship!


AWC's Center for Quality Communities scholarships are now available for outstanding young leaders in Washington's cities and towns. Your city can nominate one young leader who plans to attend college or a trade school this fall. Up to six $1,500 scholarships may be awarded in May to graduating high school students. Nominations are due March 9.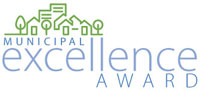 Apply to win an AWC Municipal Excellence Award!
AWC's Municipal Excellence Awards recognize innovative city projects and programs across the state. Your city could win an award and gain recognition from other cities throughout Washington. There are five categories this year and each category will have one winner. Winners will be recognized at AWC's Annual Conference in Kennewick. Simply tell us in 400 words: What makes your project or program award-winning? You can find examples of past winners and entries on our website. Apply now! Deadline is March 13.
Submit comments on affordable and supportive housing by Feb. 7
The Department of Commerce is accepting public comments through February 7 on a draft rule to support the Encouraging Investments in Affordable and Supportive Housing Act. Check Commerce's rulemaking page under the heading "Amending WAC 365-240 – 1406 Annual Reporting."


Did you know?
Over 600 individuals have alerts set so they can view your new posting the moment it is made.
Collectively, the postings on JobNet receive an average of 14,000 views per month.
Great jobs. Strong candidates. Low cost. Post your jobs on AWC JobNet today!
Job seekers can also see your jobs highlighted on social media. Follow us on Facebook and Twitter!
Featured jobs:
City of Yakima| Assistant City Attorney
City of Vancouver| Homeless Resource Manager
City of Tacoma| Tax & License Audit and Compliance Manager

Recreation and conservation grants
February 13 | Webinar
The Washington Recreation and Conservation Office (RCO) is kicking off its upcoming grant application cycle with a webinar. Get information about grant programs, deadlines, requirements, and changes for 2020. The webinar will focus on RCO grant programs with a May 1 due date: aquatic lands enhancement, boating infrastructure, land and water conservation, wildlife and recreation, and youth athletic facilities.
2020 Stormwater Action Monitoring request for proposals
Stormwater Action Monitoring (SAM) invites proposals for studies on effectiveness and source identification, to measure and improve regional collective knowledge around stormwater management. This is the third round of solicitation for SAM-funded studies since the program began in 2014. You can find more information on the SAM website. The deadline to submit proposals is February 28.
Electric vehicle charging infrastructure grants
The Department of Ecology has extended the due date for a funding opportunity to purchase and install electric vehicle charging infrastructure along high-traffic transportation corridors in Washington. Over $4 million in grant funding is available as part of the Volkswagen federal settlement. Applications are now due Tuesday, March 10 at 5pm.
Welcome, newly elected officials
Congratulations to all the new mayors and councilmembers. Welcome to the city family! Through trainings, resources, and publications, AWC is here to help you develop as a municipal leader. For your first 100 days, we'll highlight some of your AWC Elected Officials Essentials here in CityVoice.

Certificate of Municipal Leadership Program
AWC's Certificate of Municipal Leadership (CML) program recognizes mayors and councilmembers for accomplishing training in four core areas. Our trainings provide city elected officials with the knowledge they need to effectively operate within the law, plan for the future, secure and manage funds, and foster community and staff relationships.

Strong city voices filled City Action Days this week
Another successful City Action Days wrapped up Wednesday afternoon! Now is the time to remind your legislators about the value of cities and the difference cities make for the state. AWC has some great tools to help you with these conversations.
Read these popular highlights from Monday's Legislative Bulletin:
AWC seeks feedback on an accessory dwelling unit (ADU) preemption bill that may be concerning for some cities. More
Share your thoughts on a Governor-request bill aimed at increasing homeless shelter capacity statewide. More
A bill being heard this week expands the types of violations that can be detected by city traffic safety cameras. More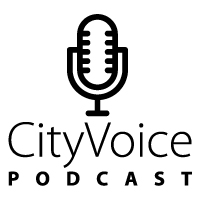 Listen to our podcast about the State of the Cities
At the start of the year we released our 2020 State of the Cities report, which found that cities are the economic drivers of our state and play an important role in the health of Washington. But cities are struggling to meet the basic needs of their communities and are facing new challenges. We sat down with Sheila, Candice, and Maggie to go over these and other report findings. Listen to the 20-minute conversation on our website or wherever you get your podcasts.
View updated fact sheets
Visit our City Legislative Priorities webpage to learn more about AWC's seven 2020 legislative priorities, which includes links to accompanying facts sheets on each priority. The fact sheets are newly updated and include graphics, data, bill numbers, and talking points to equip you with the latest info and help you talk about the issues with your legislators.
Register for Mayors Exchange


February 13 | Olympia
Taking place at AWC in Olympia during the busy legislative session, this Mayors Exchange offers the unique opportunity to connect with other city leaders and share local budget or policy issues, news, strategies, and legislative priorities. Conversation highlights include the supplemental budget proposals, the state revenue forecast, transportation, housing, and other hot topics for cities. Register now!
Introduction to the Clean Energy Transformation Act
February 28 | Webinar
The Clean Energy Transformation Act (CETA) commits Washington to an electricity supply that's free of greenhouse gas emissions by 2045. Many cities own and operate their own electric utilities. CETA will affect the way city-owned electric utilities produce electricity. This webinar will discuss the ways CETA impacts utilities' rate setting and financial obligations for low-income users, as well as the several deadlines municipal electric utilities must comply with to avoid large penalties.
AWC trainings & events

February 13

Olympia

February 28

Webinar

March 18-19

Lynnwood
Other trainings

February 4

Webinar

February 12

Webinar

February 13

Webinar

Multiple dates (Feb-Mar)

Webinar

February 25

Webinar

February 27

Seattle

March 3-5

Lacey

Multiple dates

Multiple locations
MRSC: OPMA primer - How to avoid common pitfalls


February 12 | Webinar
Learn how to avoid some common pitfalls under Washington's Open Public Meetings Act (OPMA), which applies to all governing bodies in local government including cities, counties, and special purpose districts. This webinar, which satisfies the OPMA training requirement, will showcase OPMA scenarios that public officials commonly confront in their day-to-day work.
MRSC: Making your job easier with MRSC's services
February 13 | Webinar
Work smarter. Save money. Get answers. MRSC's suite of local government services—from personalized inquiries to our vast online tools and resources—can help you, no matter what department you work in.