Congratulations to all the new mayors and councilmembers. Welcome to the city family! Through trainings, resources, and publications, AWC is here to help you develop as a municipal leader. For your first 100 days, we'll highlight some of your AWC Elected Officials Essentials here in CityVoice.
Knowing the Legal Territory
This video series is a must-see for every newly elected mayor and councilmember. Easing your way into municipal office is much easier if you know where the speed traps and traffic bumps are. Presenter Steve DiJulio, Attorney, Foster Garvey PC, keeps you on the straight and narrow. (The videos were recorded at AWC's Elected Officials Essentials training in December 2019.)
Watching the videos can earn you credit toward your Certificate of Municipal Leadership and satisfy requirements under the Open Government Trainings Act, too!
Find your way with the Elected Officials Road Map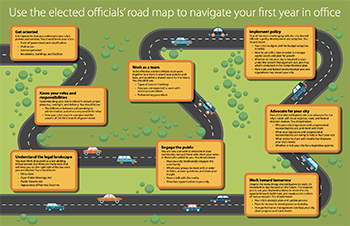 Now that you've been elected, where do you go from here? AWC can help! Learn all about your new role, what your city does, and how you can inspire change that leaves a lasting impact on your community and future generations. To do this, you must familiarize yourself with a multitude of city issues. Get started with this useful Elected Officials Road Map.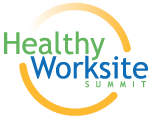 Register for Healthy Worksite Summit
March 18-19 | Lynnwood
Healthy Worksite Summit is the Northwest's premier training event dedicated to making workplaces healthy places. Employers come together to learn, share, and explore the latest trends in workplace health promotion. Register now!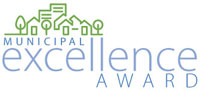 Apply to win an AWC Municipal Excellence Award!
AWC's Municipal Excellence Awards recognize innovative city projects and programs across the state. Your city could win an award and gain recognition from other cities throughout Washington. There are five categories this year and each category will have one winner. Winners will be recognized at AWC's Annual Conference in Kennewick. Simply tell us in 400 words: What makes your project or program award-winning? You can find examples of past winners and entries on our website. Apply now! Deadline is March 13.
Last call! Apply to serve on state commissions
The deadline to apply to serve as a city representative on the following state boards and commissions has been extended to Monday, January 13. Don't miss this great chance to get involved!
2020 Nominating Committee announced
AWC President Ed Stern recently appointed members to the 2020 AWC Nominating Committee. The Nominating Committee recruits, interviews, and selects a list of potential candidates for election to the AWC Board of Directors at AWC's Business Meeting on June 25 in Kennewick.
2020 Census dollars for cities and counties
The state is offering $2 million in funding assistance to Washington cities, counties, and libraries to support community outreach and education for the 2020 Census. Applications considered on a rolling basis while funds remain.
Did you miss AWC's 2020 Census webinar last month? Watch it here.
And be sure to check out AWC's 2020 Census resource page.
Report: Housing Underproduction in Washington State
New research is being released that quantifies Washington's 225,000+ home shortage, as measured over the past 15 years, and shows how the shortage is distributed by income level and region. A release event with guest speakers, including Congressman Denny Heck, is scheduled for January 10 in Federal Way.
Submit comments on affordable and supportive housing by Feb. 7
The Department of Commerce is accepting public comments through February 7 on a draft rule to support the Encouraging Investments in Affordable and Supportive Housing Act. Check Commerce's rulemaking page under the heading "Amending WAC 365-240 – 1406 Annual Reporting."


Good bill hunting
Bill tracking is one of many ways to engage during legislative session. Learn about tools for monitoring the bills that matter to your city in our Cityvision article "Good bill hunting."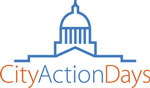 Register for City Action Days!


January 28-29 | Olympia
At just 60 days, the short 2020 legislative session won't last long. Don't miss this critical opportunity to engage legislators at City Action Days! You'll interact with 350 of your colleagues and educate statewide decision-makers about city legislative priorities. Enjoy informative sessions, networking opportunities, and a day of focused Capitol Campus meetings. Start planning now to meet with your legislators while you are in Olympia. Register now! This event begins on the afternoon of January 28 with optional early start sessions.
LOCAL Program webinar


January 24 | Webinar
The Washington State Treasurer's LOCAL Program provides Washington municipalities a cost-effective way to finance equipment and real estate projects, including property acquisition and new facility construction. Learn more about these resources through our LOCAL Program webinar.
Running great meetings with parliamentary procedure


January 28 | Olympia
As city elected officials, your active participation at council meetings is critical. Join us as we learn parliamentary procedure, with tips and insights to create great meetings. Get a solid foundation for success in your principal job: discussing and deciding the key issues for your community.
Register for Mayors Exchange


February 13 | Olympia
Taking place at AWC in Olympia during the busy legislative session, this Mayors Exchange offers the unique opportunity to connect with other city leaders and share local budget or policy issues, news, strategies, and legislative priorities. Conversation highlights include the supplemental budget proposals, the state revenue forecast, transportation, housing, and other hot topics for cities. Register now!
AWC trainings & events

January 24

Webinar

January 28

Olympia

January 28-29

Olympia

February 13

Olympia

March 18-19

Lynnwood
Other trainings

Multiple dates

Webinar

February 27

Seattle
How to apply for a Local Records Grant webinar
This webinar, newly updated for the 2020-2021 grant cycle, covers everything you need to know to craft strong, competitive applications for a Local Records Grant. Learn about the three grant categories, including what each category of grant may be used for, what types of expenses are reimbursable, and how to choose the best project for your agency's specific situation. Also learn about the application review process and scoring criteria. This is an interactive webinar with opportunities for questions throughout. Several dates available, January through March.


Looking to fill a key position in 2020? JobNet is the place to recruit new talent. Post your job openings on AWC JobNet.
Featured jobs
City of Shelton | Director of Public Works
City of Lynden | Firefighter / EMT
City of Pullman | Accountant