Washington voters approved I-940, changing the use-of-deadly-force standard for law enforcement officers
Washington State voters approved Initiative 940 (I-940), concerning law enforcement training and community enforcement, by a 19-point margin. Once the election is certified on November 28, I-940 becomes law.
AWC response to FCC franchise rule-making
The proposed rules would change the definition of franchise fees and limit franchise fee exclusions. These changes would decrease the amount of fees cable companies would pay in-lieu of other taxes and decrease public, educational, and government (PEG) channel capacity.
Representatives from Washington cities speak at the Public Records Task Force
Mayor of Buckley and AWC immediate past president Pat Johnson was featured in a Seattle Times editorial this month. Speaking at the Legislature's Public Records Task Force, Mayor Johnson explained that local governments deal with the impacts of the Public Records Act every day, adding, "But we believe the benefits of transparency outweigh the costs." More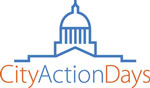 Save the date for City Action Days!
There's no better way to engage with legislators and state agency experts than at this AWC event on February 13-14 in Olympia. Registration opens December 12.
2019 legislative priorities video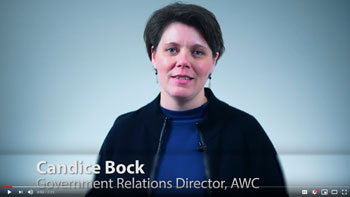 Watch this short video where AWC's Candice Bock brings you the six priorities we'll focus on in 2019.

The mid-term elections and Washington cities
What's the big news from the mid-term elections? How will changes in in the House and Senate affect Washington cities? Read about it in this edition of View from the Hill.

Budget & finance
Deadline approaches for cities to adopt the model license threshold. Respond to AWC's survey on what cities adopted or plan to adopt. More
House Finance Committee schedules work session on Tuesday, December 4 on B&O tax apportionment workgroup report. More
Economic development
Washington's new Opportunity Zones are a community development tool established by Congress in the Tax Cuts and Jobs Act of 2017. More
Environment & natural resources
Provide feedback to Ecology on their update to Critical Aquifer Recharge Area Guidance. The last edition was published in 2005. More
Homelessness & human services
For the first time, localized data about students experiencing homelessness is now available online. More
HR & labor relations
The Employment Security Department releases Paid Family and Medical Leave toolkit to assist employers. More
New law may require your agency to send child support payments electronically. More
Land use & planning
Commerce hosts final workshops on civilian-military compatibility planning – November 19 in Lakewood and November 27 in Spokane. More
Open government
State Archives offers a variety of free public records trainings. More
Pensions
Select Committee on Pension Policy votes in support of Plan 1 COLA. More
Transportation
WSDOT 2018 Innovations and Partnerships Conference. More
WSDOT survey for users of Interstate 5 in Thurston County. More
Eyman submits initiative to reduce car tabs. More