AWC responds to I-976
AWC is joining a broad coalition in filing a suit to seek an injunction and determine the legality of I-976. The initiative overturns local decisions of communities throughout the state that have chosen to invest in their own transportation needs, and it casts into doubt state-financing for numerous critical local transportation priorities. More

Sign up for AWC's Initiative 976 webinar
With the passage of Initiative 976, AWC will hold a webinar to explain the impacts and requirements of the new law. Sign up now!
Register now – 2020 Census
December 13 | Webinar
In March 2020, communities across the nation will take part in the 2020 Census. With over $600 billion in federal funding and grant money on the line, cities across Washington have already begun preparing to ensure their community will be accurately counted. Join AWC for a webinar to learn about new resources and insights on how the 2020 Census can benefit your city. More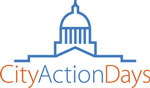 Save the date for City Action Days!


January 28-29 | Olympia
The event begins on the afternoon of January 28 with optional early start sessions.
At just 60 days, the short 2020 legislative session won't last long. Don't miss this critical opportunity to engage legislators at City Action Days! You'll interact with 350 of your colleagues and educate statewide decision-makers about city legislative priorities. Enjoy informative sessions, networking opportunities, and a day of focused Capitol Campus meetings. Start planning now to meet with your legislators while you are in Olympia. Save the date! Registration opens December 4.

Help set AWC's long-term vision – Apply to the State and Federal Policy Committee
The State and Federal Policy Committee reviews and updates the AWC Statement of Policy, AWC's long-term and forward-looking policy document, to reflect the changing and evolving needs of Washington's 281 cities and towns. Find more information about specific qualifications and how to apply.
Tell newly elected officials to attend Elected Officials Essentials


December 7 | 11 locations
With Election Day behind us, now is the time to invite your newly elected (and experienced) mayors and councilmembers to attend Elected Officials Essentials. This AWC workshop covers the most critical legal and functional responsibilities of local elected office including basic legal obligations and liabilities, and statutory roles and responsibilities. Register now!
Guidance on registration and payment options for incoming elected officials
Cities should confirm with their legal counsel that the city can cover the cost of this training for an incoming elected official prior to their taking office. Reach out to incoming elected officials in your jurisdiction to explain registration and payment options, including:
The city registers and pays for incoming elected official; or
The incoming elected official registers, and may be allowed to request reimbursement (in accordance with the city's policy).
If you have questions, please confirm with your city's legal counsel.
Open Data Portal – Exploring the election



Visit our new city election dashboard to see who won in local elections across the state, along with data on voter turnout and demographics.

2019 election results will have far-reaching impacts
This month's election will have far-reaching impacts on cities for several reasons. Find out about each of the impacts, including I-976 and why we've joined a broad coalition seeking to clarify the constitutionality of the initiative. The 2020 legislative session less than two months away, have you shared your city's legislative agenda with AWC? Read more.

Affordable housing
Grants under HB 1923 awarded to 52 cities. See what cities are doing to increase urban residential building capacity and streamline regulations. More
Housing Trust Fund is accepting applications for multifamily housing preservation. Ten million dollars is available for preservation projects at existing Housing Trust Fund rental properties. More
Budget & finance
End of the year deadline for the 46 B&O tax cities to make mandatory updates to their B&O tax ordinances is approaching. More
GASB's Statement No. 87 concerning guidance in accounting for and reporting leases takes effect December 15, 2019. More
Cities receive a small share of the state's cannabis revenue to provide increased flexibility to meet their community needs. Where does the state's cannabis revenue go? More
Economic development
The Community Economic Revitalization Board (CERB) is now accepting applications for funding for all programs, including rural broadband programs. More
Energy
The Clean Energy Transformation Act (CETA) commits Washington to an electricity supply free of greenhouse gas emissions by 2045. CETA is in the final steps of gathering stakeholder input in their rulemaking process. More
Federal
Deadline: Order your city materials for the 2020 Census by November 25. More
Homelessness & human services
Homelessness & Housing Toolkit for cities updated to reflect Department of Revenue guidance on HB 1406. More
HR & labor relations
Last chance to register for Wednesday's PFML webinar. More
State affirmative action measure R-88 narrowly defeated. More
Open government
The Public Records Exemptions Accountability Committee (Sunshine Committee) has released their 2019 annual report. More
Public works
Grant funding offered for fish passage projects. AWC strongly supported creation of the Fish Barrier Removal Board and has been an active member developing this grant program. More
The Public Works Board has scheduled public workshops on new broadband service access law. More
Takeaways from the November Public Works Board meeting, including broadband and SYNC updates. More
The Dig Law workgroup released their final report to the Legislature. More
Transportation
WSDOT City Safety Program call for projects is now open. Approximately $25 million of federal Highway Safety Improvement Program (HSIP) funds are now available. More