Reminder: Check out AWC's resources on I-976
Initiative 976 is on the ballot on November 5 and, if passed, would reduce city, state, and other local government transportation revenue. Review our I-976 resource page where you can watch our webinar, explore how your city would be affected, and learn how you can engage on the issue. More
Coming soon: Paid Family Medical Leave benefits begin January 1
November 20 | Webinar
In 2019, Washington employers began paying premiums for the new paid family and medical leave law. Beginning in 2020, benefits will be available to employees. With the new law comes new and complex requirements for employers. This webinar will explore the details of the new law, dive deep into new requirements for employers, and discuss practical considerations and options for modifying existing policies. More
2020 Census kicks off in less than six months
We are officially less than six months out from the 2020 Census and many cities and towns have already begun taking steps to prepare. Because the Census is so critical for Washington's cities and towns, AWC has developed a 2020 Census landing page to provide cities with information, resources, recommendations, and tools to help ensure that everyone in your community is counted. View the resources and tell us what your city is doing to prepare. More

Help set AWC's long-term vision – Apply to the State and Federal Policy Committee
The State and Federal Policy Committee is tasked with updating the AWC Statement of Policy, which outlines positions AWC holds on fundamental municipal issues and serves as the framework for developing AWC's legislative priorities and positions. Find more information about specific qualifications and how to apply. Deadline is November 13.
Get involved! Apply to serve on state committees
AWC is recruiting candidates for the following three state committees:
Applications due November 8.
Get Cities on Tap at these upcoming locations


October 21 | Wenatchee
October 23 | Yakima
October 24 | Tacoma
October 30 | Vancouver
November 14 | Kent
Grab a colleague and meet us at Cities on Tap. Start off the night with time to connect and chat with colleagues from nearby cities. You'll then get a first look at 2020 advocacy insights from our legislative team, along with information about essential tools and services. If you haven't yet registered, please take a moment to do so for our accurate head count.
Register for Elected Officials Essentials
December 7 | 11 locations
Getting elected as mayor or city council member is just the beginning. Once you start your role, there are many things to learn – and quickly. Get a head start by attending this popular event! Understand your roles and responsibilities, learn important ethical considerations to keep you on the right side of the law, examine real-world municipal scenarios with on-site legal counsel, and network with other city leaders in your region. Registration is now open, but those not yet in elected office will need to register after November 5.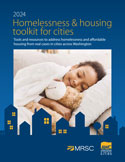 Updated Homelessness & Housing Toolkit for Cities now available
This publication provides real-world examples of tools and actions Washington cities have used in responding to the issues of homelessness and affordable housing. The toolkit includes articles on housing levies, tenant protections, tax exemptions, regional coalitions, emergency rental assistance, and more. AWC and MRSC collaborated on this toolkit to highlight working examples of innovative approaches that cities take to address these challenges.

AWC 2020 Legislative Priorities – Now is the time for your city to adopt its legislative agenda
Last month we gave you a preview of what priorities the AWC Board would consider for 2020—now it's official! See the seven city legislative priorities AWC's Board adopted for the 2020 legislative session. It's your turn! Develop, adopt, and send us your city's 2020 legislative agenda and we'll add it to our website. More
Watch this video where Candice Bock introduces AWC's seven 2020 priorities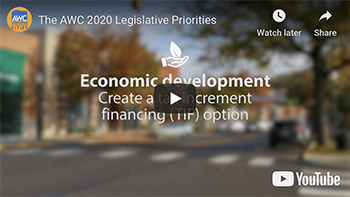 Budget & finance
Attend AWC's free webinar regarding updates and changes to the B&O tax model ordinance! Learn more about the mandatory changes, understand how new apportionment rules will work for service income, and discover resources to help your city in the next steps for adopting the model ordinance. More
Check out the Department of Revenue's new Washington Sales Tax Rate Lookup mobile app! More
Decision deadlines are coming up for cities not already partnered with FileLocal or Business Licensing Service for business license administration. More
Economic development
The Community Economic Revitalization Board (CERB) is now accepting applications for funding for all programs, including rural broadband programs. Applications are due November 18, 2019. More
Environment & natural resources
Salmon Recovery Act rule changes are being considered. The Salmon Recovery Funding Board is considering changes to implement the Lean Study recommendations. More
The Governor's Southern Resident Killer Whale Task Force offers new recommendations. One new recommendation would make a major change in natural resource laws cities follow and implement. More
General government
New NLC Report: What cities should know about cybersecurity. More
Homelessness & human services
Funding available for new modular, homeless housing projects. More
HR & labor relations
Department of Retirement Systems adopts new employer responsibility rules. More
Land use & planning
Federal transit-oriented planning grants now available. The U.S. Department of Transportation's Federal Transit Administration announced late last month the availability of $19.2 million in funding to support comprehensive planning that improves access to public transit. More
Funding now available for new Defense Community Compatibility grants. The purpose of the new grant program is to provide funds for compatible development projects that affect the economy, environment, or quality of life opportunities for local communities. More
Public safety & criminal justice
Basic Law Enforcement Academy (BLEA) update. More
Public works
The Public Works Board is accepting grant applications for broadband planning-feasibility study grants. Applications are due November 14, 2019. More
Key takeaways and workshop presentations available from the Rural Broadband Workshop. More
Newly revised water system resources for review. Draft revision of Water System Planning Guidebook in comment period and new edition of Water System Design Manual just released. More
Transportation
Autonomous Vehicle Work Group meets for final time this year. More
Washington Highway User Federation opens registration for annual transportation briefing. More