Grants created by HB 1923 for housing-related planning close soon!
For cities over 20,000 the deadline is September 30. For cities under 20,000 the deadline is October 15 and the pre-application survey must be completed in advance. More
Watch AWC's webinar on transportation-related Initiative 976
AWC recently hosted a webinar on Initiative 976 (I-976). The measure proposes to reduce car tab fees, repeal the authority for transportation benefit districts to impose fees, and reduce Sound Transit revenues. A recording of the webinar and the slides are now available to learn more about the initiative, how it could impact your city, and ways for you to engage on the issue headed to the ballot in November.
AWC launches 2020 Census resource page
The Census is critical for Washington's cities and towns. AWC has developed a 2020 Census landing page to provide cities with information, resources, recommendations, and tools to help ensure that everyone in their community gets counted. More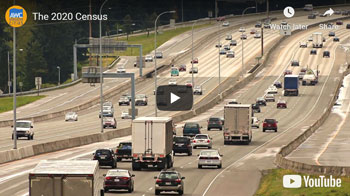 Watch this video where your AWC President and Vice President explain why the Census is so important to cities, and how you can help your community get a complete count.

Register for Cities on Tap


11 locations | October & November dates
AWC is excited to introduce Cities on Tap, a brand-new event for Washington's city leaders. Held this fall in cities throughout the state, Cities on Tap is a revamped and reimagined take on Regional Meetings. This new event is more than just a name change: Cities on Tap will bring vital information and networking opportunities to Washington's city leaders in an energetic, informal environment. View the locations and register now!
Complete the 2018 GMA impact fee survey by Sept. 25
The Joint Legislative Audit and Review Committee (JLARC) extended the deadline to complete the 2018 GMA impact fees survey to September 25. Department of Commerce and JLARC are required to report information on the use of impact fee deferrals. RCW 82.02.050(3)(i) requires that cities, counties, and towns provide this data annually. These cities have already completed the survey for 2018 data.
The survey should only take between 5 and 10 minutes to complete. The information that you report will be made publicly available on an annual basis by the Department of Commerce and once by JLARC in a performance audit that will be completed in 2021.

Preview the 2020 City Legislative Priorities
AWC's Legislative Priorities Committee has wrapped up its work and created a list of priorities to recommend to the AWC Board. See what priorities are included on the list and what to expect next. Now that Labor Day has passed, it's time to adopt your city's legislative agenda and really dial in to 2020 preparations. Learn about federal action taking place and our state of the cities survey. More

Affordable housing
New online resource for affordable housing planning. More
Budget & finance
State Auditor's Office hosting local free training. More
City B&O tax model ordinance update almost complete and public stakeholder meetings scheduled on draft service apportionment interpretation rule. B&O cities must adopt mandatory model ordinance changes by January 1, 2020. More
Cannabis
AWC needs your input on draft cannabis legislation. More
Energy
Register for the Department of Commerce webinar to learn about community clean energy planning and the new opportunities that the implementation of the Clean Energy Transition Act (CETA) will bring. More
Environment & natural resources
Rulemaking proposed for Oil Spill Contingency Rule. A new webinar-only hearing added on September 26. Please share your comments with AWC. More
Update on statewide Drug Take-back Program implementation. A program plan by the drug manufacturers has been submitted to DOH for review. More
HR & labor relations
L&I extends public comment period on new overtime rules. More
Public safety & criminal justice
$2 million in mental health field response grants awarded to local law enforcement. More
Auditor rolls out tips to help local governments #BeCyberSmart. More
JLARC extends law enforcement mapping survey. Law enforcement: Look for your unique survey link from WSU and complete a JLARC survey as soon as possible. More
Public works
The Drinking Water State Revolving Fund (DWSRF) 2019 Construction loan cycle will accept applications from October 1 to November 30. More
Telecommunications
The Federal Communications Commission's (FCC) most recent order regarding cable franchising will go into effect on September 26. More
Transportation
Personal delivery devices can now be licensed. What you need to know on enforcement. More