Emergency changes to shared work program benefit employers and employees
In an emergency rule adopted on June 23, the Department of Retirement Systems (DRS) changed how furloughs or temporary layoffs will affect public employees' retirement benefits. Additionally, on June 19 the Governor issued emergency proclamation 20-58 that will allow reimbursable employers to be eligible for up to 100% reimbursement for unemployment costs related to the shared work program. More
New guidance and audit advice issued for use of CARES funds
The Treasury Department released an updated FAQ document detailing the use of CARES Act COVID-19 Relief Funds for FEMA matching requirements. The State Auditor issued guidance for future audits of these funds. More
Read the results from our COVID-19 city survey
In May and June, we surveyed our cities to learn the local impact of COVID-19 on city populations and finances. The survey found that city budgets suffered during the early months of the pandemic, and it's only the beginning. Read the highlights, find charts and graphs, discover what some respondents said, and access the full report. More

See if your legislator won a City Champion Award!
We revealed the winners of AWC's City Champion Awards at this year's Annual Conference. Awards acknowledge the hard work and dedication of legislators who championed critical city issues during the 2020 legislative session. See who won and what city issues they championed. If your legislator made the list, reach out and congratulate them. Congratulations, 2020 City Champions!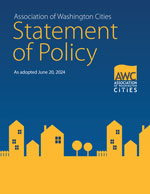 Read the adopted 2020 AWC Statement of Policy document
At our Annual Business Meeting, AWC members adopted the 2020 Statement of Policy. It's the foundational document for our advocacy work, it establishes our core principles and policy positions, and it's updated every six years. Thanks to the members of the committee who crafted the policy and the membership who thoughtfully debated, modified, and adopted the document.
10 tips for working with your legislators
During our popular Advocacy Academy presentation at AWC's online Annual Conference, our lobbyists shared their top 10 tips for working with legislators. Catch this 1-minute video that shares those tips and then remember to reach out to your legislators this summer!
10 things we learned at Annual Conference
While we couldn't be together in person this year, we still found meaningful ways to connect during online networking sessions and breakouts. Check out these 10 things cities learned during Annual Conference. If you missed out on Advocacy Academy, register for free to watch the recording.

Economic impact of the COVID-19 emergency hit home for cities and the state
Don't miss this jam-packed View from the Hill:
Read about our recently adopted AWC 2020 Statement of Policy
Learn what you need to know about CARES Act funding that expires Oct. 31
Discover the state's revenue forecast and what it means (spoiler: it's an 8.8 billion dollar hole)
Hear the latest special session rumors
Find out what you can do to help

Affordable housing
HB 1406 deadline on July 28. Don't miss out. More
Partnership opportunity for affordable housing and early learning facilities. More
Housing Action Plan guidance now available. More
Environment & natural resources
Another report proposing to transform Washington's waste system. More
General government
2020 Census update & messaging toolkit. More
Food insecurity ongoing challenge for Washington residents. More
Homelessness & human services
New grant program for homeless shelters. More
HR & labor relations
Changes in Washington overtime rules effective July 1. More
Land use & planning
Update on wetland mitigation guidance. More
Open government
OPMA & PRA emergency waivers and suspension extended. More
Public works
Public Works Board (PWB) to host infrastructure training webinar series in July, with focus on regionalization, value planning, and asset management. More
Governor Inslee issues proclamation on ratepayer assistance. More
Telecommunications
Webinar to discuss new FCC order on wireless communication facilities. More
Transportation
Office of Financial Management (OFM) releases June 2020 transportation revenue forecast. More
Governor Inslee extends Transportation Improvement Program annual update deadlines. More