2019 Legislature adjourns, final state budgets approved
In the final days of the 2019 session, the budget conference committee reached agreement on state operating, capital, and transportation budgets for FY 2019-21. The budgets were passed with just minutes to go in the legislative session. Overall, the final operating budget is positive for cities and our legislative priorities, including increased funding for homelessness, behavioral health, and culverts. Concerns remain with the sweep of funding from the Public Works Trust Fund. More
AWC priority housing bill passes during budget negotiations
HB 1406, one of AWC's priority housing bills, provides cities with a tool to address affordable housing in their communities. HB 1406 passed the Legislature during the wee hours on the last day of session. The bill creates a sales tax revenue sharing program, allowing cities to access a portion of state sales tax revenue to make local investments in affordable housing. The bill now heads to the Governor for signature. More
MTCA bill passes
Despite being introduced late into session, the Model Toxics Control Act (MTCA) bill (SB 5993) passed. The bill shifts the hazardous substances tax from a value-based to a volume-based tax, which is intended to prevent swings in revenue that can cause approved city projects to go unfunded. Late amendments included an inflation adjuster. The bill will result in more resources for toxic cleanups, brownfields, and stormwater work. Despite some frustrating diversions of MTCA funds for other programs, we believe this bill will be of significant benefit for cities, especially over time. More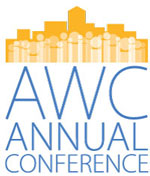 Time to register for AWC's Annual Conference!
June 25-28 | Spokane
AWC's Annual Conference offers something for everyone. Elected officials can earn 10 credits towards their Certificate of Municipal Leadership and return to their community with renewed ideas, insights, and contacts. Registration is now open. Visit our conference page for all the details you need!
File your 2018 lodging tax report by May 15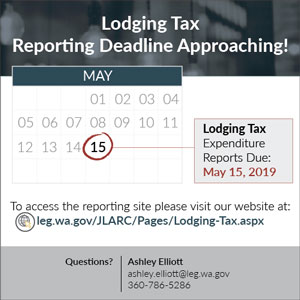 The deadline for mandatory reporting of 2018 lodging tax expenditure data is May 15, 2019. Cities and counties that collect lodging tax are required to report annual expenditures to the Joint Legislative Audit & Review Committee's (JLARC) website. If your city has not yet completed its report, please submit the data by the May 15 deadline. JLARC regularly reviews these reports, and legislators have raised concerns about incomplete or insufficient detail in reports in previous years.
2019 legislative wrap-up and look ahead to 2020
May 29 | Webinar
Join the AWC advocacy team for an informative recap of city-related issues. Get caught up on key outcomes of the 2019 session, learn how city priorities fared during session, and discover how you can make the most impact during the legislative interim and prepare for 2020.

2019 session adjourns on time – a solid session for cities
The 2019 legislative session adjourned on schedule Sunday, April 28 with a flurry of last-minute bills. Legislators worked nearly round the clock during the last few days to finalize budgets and line up support. Action will continue for the next 20 days while the Governor reviews and signs or vetoes the various bills that have been sent to his desk. This was a solid session for city priorities. Learn how the transportation, capital and operating budgets will affect your city, and plan to continue your advocacy during the interim. More

Budget & finance
Graduated REET and service B&O tax bills pass as part of state budget revenue package. More
Legislature passes new tax bills. More
Legislature approves changes to pre-LEOFF fire pension levy authority. More
Transportation budget passes. More
Economic development
Legislature passes Governor's broadband bill. More
Environment & natural resources
Paint stewardship bill returns from the dead, passes Legislature. More
Final status of recycling-related bills. More
Homelessness & human services
Opioid treatment bill advances to Governor for signature. More
Trueblood settlement bill unanimously passes Legislature. More
HR & labor relations
First-responder occupational disease compromise bill signed by Governor. More
Affirmative action bill passes legislature. More
Land use & planning
Last minute fix made in key density bill. More
New law requires a searchable database of land use decisions. More
Open government
AWC's public records reporting fix bill passes Legislature. More
Sunshine Committee recommendation bill passes Legislature. More
Pensions
$300 million LEOFF 2 transfer bill passes Legislature. More
Public safety & criminal justice
Animal fighting bill delivered to Governor. More
Legislature passes bill related to informant and eyewitness evidence. More
Hate crimes bill passes Legislature. More
Public works
Amended public works bid limit bill passes Legislature. More
Transportation
SR-167, I-405 tolling and bonding bill passes Legislature. More
Bill proposing new requirement on state-paid stormwater fees passes Legislature. More