Bump stock buy-back program now in effect
SB 5954, the bump stock buy-back program bill, passed the Legislature and was signed by the Governor on March 14. The law provides Washington residents the opportunity to turn in up to five bump-fire stocks for payment before the federal law banning the possession of bump-fire stocks takes effect on March 26. More
New LEOFF 2 pension bills introduced
SB 5983 and HB 2144, concerning first responder pensions, were recently introduced in the Legislature. Both bills transfer $300 million from the Law Enforcement Officers' and Fire Fighters' Retirement System Plan 2 (LEOFF 2) retirement fund to the Benefits Improvement Account (BIA). More
Density bill improves for cities
HB 1923 had a very busy week, ultimately passing the House in a much better form for cities. This is the key bill proposing to increase urban residential capacity, density, and affordable housing. Fifteen legislators signed a letter showing their support for cities on three core principles on housing and land use bills. More

Record number of bills introduced and budget release expected next week
Last week was the house of origin cutoff deadline, so now's a good time to look at the session stats. Learn how many more bills have been introduced this year compared to all of 2017's bills (the most recent long session). We are now awaiting revenue and caseload forecasts slated for March 20, followed by the House budget proposal expected on March 25. Read this week's bill hot sheet and learn about AWC's budget priorities. More
Cities' budget priorities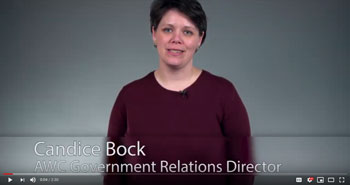 In this video, Candice details the priority items that cities are seeking within the state's 2019-2021 budget. We encourage city officials to share our budget letter and its message with your local legislators and ask them to advocate for these priorities with their budget leaders.

Watch legislator profile videos on TVW
How well do you know your legislators? Learn more about them by watching their profile videos on TVW. In each video, legislators introduce themselves and talk about what motivated them to run for office and what issues are most important to them as they serve Washington in their formal roles. More
Participate in town hall meetings near you
Across Washington, legislators will be holding public town hall meetings to engage their community and hear local ideas and concerns on the ground. These events are a great opportunity for you to connect with your legislators and listen to the input of your shared constituents. Check your legislators' website to see if they have scheduled a town hall. If not, reach out to them and ask if they plan to host one.

Affordable housing
Status of affordable housing bills at cutoff. More
Budget & finance
Enhanced State Treasurer services moving forward with a change. More
Transparency of local utility taxing districts bill amended. More
Change to B&O tax deadline for annual filers passes House. More
Hearing scheduled for B&O apportionment bill. More
Changes to State Auditor report requirements. More
Bill proposes changes to firefighters' pension levy. More
Cannabis
Bill concerning criminal penalties for licensed marijuana retailers moves to Senate. More
Vacating cannabis misdemeanor convictions bill advances. More
Environment & natural resources
Bill to encourage pollinator habitat passes Senate. More
Summary of environmental bills at cutoff. More
General government
Bill that would eliminate advisory votes on tax increases set for House hearing. More
Homelessness & human services
Opioid treatment bill moves to the House. More
HR & labor relations
First quarter PFML payment and reporting moved to July 31. More
First-responder occupational disease compromise bill set for Senate hearing. More
Land use & planning
ADU bills continue to improve for cities. More
Round up of land use bills after cutoff. More
Open government
AWC's public records reporting improvement bill scheduled for Senate hearing. More
Public record exemption bill scheduled for Senate public hearing. More
Sunshine Committee bill scheduled for Senate public hearing. More
Public safety & criminal justice
Bill that helps fire departments recover cleanup costs passes House. More
Bill addressing impaired driving statutes moves to the Senate. More
Bill that requires actions by officers in response to domestic violence continues to move. More
Bill to provide immunity from prostitution charges in limited circumstances advances. More
Protection orders bills advance. More
Bill requiring smoke detection devices advances to the House. More
Transportation
Motorized scooter bill passes House and gets scheduled for Senate public hearing. More
AWC-supported pavement condition reporting repeal bill set for Senate hearing. More
Bill proposing new requirement on state paid stormwater fees scheduled for House hearing. More