Legislature passes supplemental operating budget
The final version of the adopted budget includes many of the city-preferred approaches to the differences between the Senate and the House, including several new investments in housing, mental health, and opioid treatment and prevention. More

Cities come out strong as 2018 session wraps up
We are pleased that for the first non-overtime session in many years, our goals have generally been achieved. We were able to do this for several reasons. Learn why, find out what's next, and read my thanks to you and fond farewell. More

Track the Governor's bill signing action
Curious about when Governor Jay Inslee will sign a certain bill passed by the Legislature? Visit the Governor's website to discover which bills have been scheduled for signing, and when. You can also scroll down to find the bill signing FAQ. Learn how long the Governor has to sign a bill, how to attend a signing, and more.
Ruckelshaus workshops beginning soon
This March, the William D. Ruckelshaus Center will begin a series of invitation-only workshops for local elected officials and managers around the state to discuss potential improvements to Washington's framework of planning laws, including but not limited to the Growth Management Act. If invited, we hope you can attend! For more information, visit the project web page at "A Road Map to Washington's Future." Look for more articles and information soon from AWC on this important project.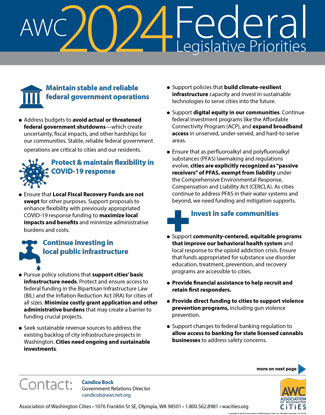 AWC federal legislative priorities
AWC's leadership and approximately 75 Washington city officials are in Washington, D.C. this week to advocate for federal priorities, as developed by the AWC Federal Legislative Priorities Committee. Follow us this week on AWC's twitter to see photos and updates.

Budget & finance
2018 supplemental capital budget passes the Legislature. More
Economic development
Cities gain important flexibility for using LIFT funds. More
New Washington state tourism authority established. More
Energy
Several clean energy bills die. More
Environment & natural resources
Bill buys time for dealing with yard waste in apple maggot quarantine areas. More
General government
Wrongful death bill that would have expanded city tort liability died. More
Homelessness & human services
Behavioral health investments. More
HR & labor relations
First-responder occupational disease bill fails to make it through the Legislature. More
Land use & planning
Homeless shelters will be exempt from development impact fees. More
Open government
Public Records Act Model Rules get an update. More
Read AWC's Public Records Act task force letter. More
Pensions
PERS 1 COLA headed to Governor. More
Public safety & criminal justice
Joint legislative task force on sexual assault exams extended one more year. More
Initiative 940, concerning the use of deadly force by law enforcement, and a bill amending it pass the Legislature. More
Telecommunications
No new legislation on small cells this session. More
Transportation
Transportation budget passes, includes funding for Connecting Washington and studies of city transportation systems. More
No relief for car tab fees this session. More