Local Revitalization Financing passes through the House – needs help clearing the Senate
The House passed HB 2804 to reopen the Local Revitalization Financing (LRF) program and provide an annual state contribution of up to $15 million for the next 20 years. These funds go to local jurisdictions to be used to invest in public infrastructure to encourage economic development. AWC needs your help to pass the bill out of the Senate. More
Voice your support for the "HB 1406 fix" bill
Passed in 2019, implementing HB 1406 has been challenging due to some confusing language and unintended consequences. The fix is almost here! HB 2797 intends to amend the law to clear up the confusion and would also extend the time for a city to pass a qualifying local tax. Contact your legislators today to get this important piece of legislation across the finish line during the final days! More
House passes amended facial recognition bill with private right of action added
The House adopted a striking amendment that includes language allowing individuals to file a private right of action against a jurisdiction for violating the provisions of the facial recognition legislation. AWC opposes these changes to the bill and encourages cities to contact their legislators immediately to ask that they remove the private right of action language. More

Advocacy is a year-round job
We've reached the final days of the legislative session, but advocacy doesn't stop here! The upcoming legislative interim is one of the best times to connect with your legislators. They'll be back home soon, reach out to them to set up a meeting to talk about session outcomes for your community. Find more ideas for the legislative interim.
Great employees are the key to providing excellent city services.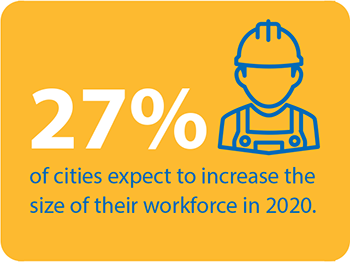 Read this chapter of the 2020 State of the Cities to learn more about how cities struggle to pay the rising costs of human resources.

State and local briefing call on COVID-19
March 11 | 10 am PT | Conference call
This Senior White House Administration briefing call will address COVID-19 preparations for state and local governments. To participate in the call, you must pre-register. Upon successful registration, you will receive an email with dial-in details. Feel free to share this invitation with your local government colleagues as well as public health officials.
Impacts of HB 1071: Protecting personal info
March 26 | Webinar
Local governments should be aware of the expansion of the state's data breach notification law. New updates take effect on March 1, expanding requirements on what type of data triggers a data breach notification and shortening the amount of time that government has to respond. This webinar explains these changes, including the expanded definition of personal information, how to identify a breach, notification requirements, and a discussion of potential issues with implementation.

Final days of the 2020 session – Sine Die is March 12
We have reached the last few days of the 2020 legislative session. The Legislature will spend these last days finalizing the supplemental budgets and wrapping up work on policy bills. Get our bill Hot Sheet for this week, which includes what action is needed to make sure bills get to the finish line by Thursday, March 12. More

Affordable housing
Councilmanic authority to pass local sales tax for affordable housing one step closer to law. More
Budget & finance
Proposal that would have authorized King County to adopt payroll taxes for housing and homelessness is now dead. More
Bill that would expand tribal property tax exemption passes House and Senate. More
Energy
C-PACER bill advances through House and Senate. More
Environment & natural resources
Compost use mandate passes Legislature. More
General government
Consumer data bill amended to retain preemption and report on city data. More
Bill allowing for mobile gas operators passes both chambers. More
Homelessness & human services
Faith organization homeless hosting bill passes. More
HR & labor relations
Governor ensures workers' compensation coverage for quarantined health workers and first responders. More
Adopted amendment brings reasonable change for workers compensation self-insured employers. More
Land use & planning
ADU preemption bill approaches floor vote. More
Two density bills pass the Legislature. More
Annexation by interlocal agreement coming soon! More
Open government
Public records employee information exemption makes it through both chambers. More
Public safety & criminal justice
Second Circuit Court rules that federal government can withhold grant funding. More
Bill limiting law enforcement actions at court facilities passes both chambers. More
Senate adopts amendments adjusting sexual assault kit storage requirements. More
Public works
LOCAL Program funding cycle now open. More
Legislature advances proposal for dig law updates. More
Legislation requiring labeling of disposable wipe products passes Legislature. More