Washington Voting Rights Act passes Legislature
After a lively and passionate hours-long debate, the House passed SB 6002, but a different version than the Senate-passed bill. On a 29-20 vote, the Senate concurred on March 5 with the House version, and the bill now heads to the Governor's desk for his signature. More
A surprising turn of events for small cell bill
SB 5935 would require cities above a certain size to update or adopt policies relating to small cell technology. In a positive and surprising turn of events, the small cell section of the bill was stripped and voted out of committee. Find out what this means for cities. More

Session ends on March 8 – How are city priorities doing?
AWC began the 2018 session with our sights set on addressing housing shortages and affordability, helping individuals with mental health and drug addiction issues, and providing tools to enhance local economic vitality. There are only a few days left before the session ends – find out how our priorities are faring. More

Ask your senators to pass affordable housing bill HB 2437


Contact your Senators to ask for their support to pass and fund HB 2437. This proposal creates a landmark partnership between the state and local governments on affordable housing investments. Use our data map to show Senators how much money this bill would raise for your community. Once there, click "Explore" on the bottom right of the screen and then select your area in the drop-down box. More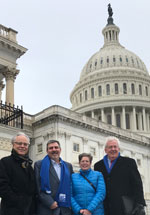 City officials travelling to NLC's Congressional City Conference
AWC's leadership and approximately 75 Washington city officials are headed off to Washington, D.C. next week to advocate for federal policies that support our cities. Follow us March 11-14 on AWC's twitter to get updates.
Check out our federal infrastructure report and two-pager that summarizes the report.

Budget & finance
B&O tax apportionment task force looking at simplification options. More
Senate and House pass supplemental budgets off the floor. More
General government
Lodging tax 2017 expenditure data collection begins. More
Homelessness & human services
Drug take-back program going statewide. More
Homeless housing bill moves out of Senate. More
HR & labor relations
First responder PTSD bill passes the Legislature. More
Bill restricting employers from inquiring about criminal backgrounds of job applicants passes the Legislature but must be included in the budget to become law. More
Open government
Legislature agrees to convene a task force for recommendations on legislative public record disclosure reform in 2019. More
Pensions
PERS 1 cost of living increase. More
Public safety & criminal justice
AWC-supported body worn cameras bill passes the Legislature. More
LFO bill passes the Senate. More
Bill expanding search warrant jurisdiction of specific municipal courts passes Legislature. More
Public works
Collective bargaining contracts to govern prevailing wages. More
Cities to get more flexibility in contracting for public works by using unit priced contracts. More
Transportation
Burden of state route maintenance will be lifted for more cities. More
Support HB 1656 to help save new funding for small municipal airports. More