Week 4 of session with cutoff deadlines looming
Now that we are in Week 4 of the session, it is time to start paying attention to those critical cutoff deadlines. A variety of bills that AWC is watching closely are subject to the February 7 policy committee cutoff. Check out the Hot Sheet for a quick reference guide to bills we are tracking. With supplemental budget proposals expected later this month, read AWC's letter to legislative budget leaders on city funding priorities. More

Priority bill to expand the Multifamily Tax Exemption program
AWC priority bill to expand the Multifamily Tax Exemption (MFTE) program is scheduled for a hearing and committee vote this week and needs your support. More
House proposals pave the way for TIF in Washington
AWC supports a House bill and a House joint resolution permitting cities and towns to use tax increment financing (TIF) to improve designated areas within their communities. More
New transportation revenue proposal to be heard
The chairman of the Senate Transportation Committee, Sen. Steve Hobbs (D–Lake Stevens), will hold a hearing this week on his proposal for a new transportation revenue package. More

Calling all mayors! Register for Mayors Exchange


February 13 | Olympia
Mayors: If you missed City Action Days, you still have one more chance to come to Olympia during session! This Mayors Exchange offers the unique opportunity to connect with other city leaders and share local budget or policy issues, news, strategies, and legislative priorities. Conversation highlights include the supplemental budget proposals, the state revenue forecast, transportation, housing, and other hot topics for cities. Register now!
Connect with your legislators at local town halls
Legislators will be hosting town hall meetings during the next few weeks. Check your legislators' websites for information on when and where theirs will be. Bringing up issues that are important to your city at local town halls is a great way to make sure they and your constituents are aware of your city's legislative issues.
Thank you for making City Action Days 2020 a success!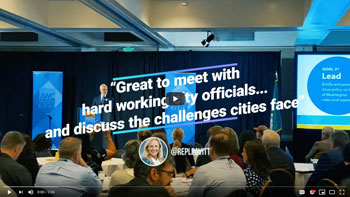 CAD is a wrap! Nearly 400 attendees representing over 115 cities converged on Olympia last week to advocate for Washington cities. The educational sessions, networking opportunities, and legislator visits all helped make for strong cities and a great state. Relive some of the best moments in our CAD highlights video.

Affordable housing
Bill seeks to address donation of utility property for affordable housing. We would appreciate city attorney feedback on this one. More
Shared housing funding bill up for hearing. More
Bill adds permanent affordable housing as eligible project for LRF programs. More
Budget & finance
JLARC's lodging tax reporting system is officially open for 2019 reporting. More
2020 B&O tax rates updates. More
Increases for Department of Revenue's business license applications. More
Bill requires cities to disclose utility taxes on billing statements. More
Proposal would increase tourism fee while threatening tourism promotion funding. More
Cannabis
New regulations seek to limit cannabis and vapor advertising. More
Legislators consider program promoting social equity among cannabis retailers. More
Economic development
Proposal to provide greater funding for LRF projects. More
Energy
Sign up for the Introduction to CETA webinar. More
Environment & natural resources
Compost use mandate amendment needs feedback. More
General government
Streamlined process for changing form of government under consideration. More
Mobile on-demand gas providers seek state standardization for permitting. More
HR & labor relations
Bills propose changes to several employee-related programs. More
Land use & planning
Growth Management Hearings Board reform bills diverge. More
Another bill proposes to change permit application timelines. We could use your eyes on a definition change. More
Open government
Bills modify public record requirements. More
Public safety & criminal justice
New process for handling sexual assaults kits. More
Legislators look to tie county jail funding to MAT requirements. More
New requirements proposed for police seizing contraband from minors. More
Bill addresses police procedures relating to missing person cases. More
Several bills propose changes to the criminal justice system. More
Public works
Proposal expands exemption to competitive bidding for community service organizations. More
Bill requires additional protection of archaeological and cultural sites. More
Landscape maintenance rulemaking updates. More
Transportation
Senate to hear three bills reimposing Initiative 976. More
Updates to motorcycle parking requirements. More
Legislature considers limiting steel products on public works. More