Wrongful death bills are back this year
Two proposed companion bills would significantly expand city tort liability associated with wrongful death claims. Both bills amend the current wrongful death statutes in a few important ways. The bills are scheduled to move quickly out of committee. More
Bill to reduce wait time for basic law enforcement training gets a hearing
The bill stipulates that law enforcement personnel must begin basic training during the first two months of employment, reducing the time from the current six months. AWC supports the bill and will testify in favor at the hearing. More
Washington infrastructure receives "C" grade
Washington State's infrastructure received a "C" grade from the American Society of Civil Engineers (ASCE). The annual report card covers nine topic areas and provides information on the capacity, condition, operation and maintenance, funding, safety, resiliency, innovation, and solutions for each area. More

2019 Legislative Session starts off with a fast pace
The first week of session came and went in a flash and packed a whirlwind of activity in five days. In last week's issue, we suggested that hearing schedules looked pretty light for the first week, but a flurry of hearings were added as the Legislature jumpstarted their workload. Check out this week's View from the Hill to get a feel for how the first week kicked off.


Take note of City Action Days' new start time this year
February 13-14 | Olympia
Did you know? City Action Days will start in the afternoon this year. The opening general session will kick off on Wednesday, February 13 at 2 pm. Arrive early Wednesday if you wish to attend our optional early-start sessions, beginning at 9:15 am. We will welcome Governor Jay Inslee on Thursday morning, February 14 to address city leaders on his plans to work together. And remember: Start scheduling appointments with your legislators now for the afternoon of February 14! Register now.
Try testifying using the Senate Remote Testimony Pilot Project
What happens when a bill is up for hearing in a Senate committee that could impact your city, but you simply cannot make it to Olympia to testify? You may be able to testify remotely! The Senate has been allowing invited participants to testify remotely via videoconferencing through a pilot project. The project is being expanded this session to include testimony from the public. More
2019 Legislative Priority video – Culverts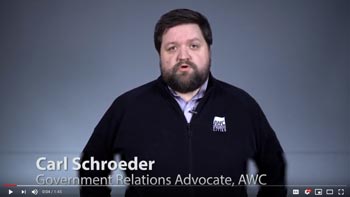 Watch this video where AWC's Carl Schroeder breaks down the issue of fish-blocking culverts, one of cities' legislative priorities this year. Find out who has partnered with AWC on this effort, and gain insight into what's involved with a comprehensive approach to unblocking statewide culverts.

Affordable housing
Several bills expand property tax exemption for affordable housing. More
Self-help housing sales tax and REET exemption bill up for a hearing. "Self-help housing" is most commonly understood as the Habitat for Humanity model. More
Bill proposes to extend city authority to use REET for housing and homelessness. More
Foreclosure protection efforts continue this session. More
Cannabis
Cannabis home grows bill gets a hearing. More
Bill restricting cannabis business siting is scheduled for a committee vote. More
Economic development
NLC comments on Opportunity Zones tax breaks. More
Environment & natural resources
Several bills address the proliferation of plastics – ranging from bans to a comprehensive product stewardship law for plastic packaging. More
Bill proposes to provide direction and an enhanced process for the Department of Ecology to produce Chemical Action Plans to reduce the release of high priority toxic chemicals into the environment. More
General government
Proposed changes to the Voting Rights Act (VRA). A bill has been introduced that clarifies that all council seats would be up for election when redistricting under the VRA. More
New legislation requires prepaid postage for all elections. More
Bill creates a private right of action for motorcycle profiling. More
HR & labor relations
Firefighter safety bill scheduled for Tuesday hearing. More
Injured worker benefit payment bill set for hearing on Tuesday. More
Homelessness & human services
Sign on to support funding for homelessness prevention. Please join AWC in supporting the Washington's Housing and Essential Needs (HEN) program. More
Bill creates a pilot for cities to hire homeless persons for city beautification projects. More
Adult family home bill gets a Tuesday public hearing. More
Land use & planning
A flurry of Growth Management Act bills in the Senate, with a focus on addressing the housing crisis. More
Open government
Hearing held on Sunshine Committee recommendations bill. More
Pensions
Bill would allow state to invest pension assets of first-class cities. More
Public safety & criminal justice
Both companion bills that were introduced to fix Initiative 940 (I-940) are moving very quickly. More
Senate version of public defense funding bill will be heard. More
Bill proposes to raise the burden of proof in civil asset forfeiture hearings. More
Transportation camera bill allowing use by law enforcement to be heard. More
Bill proposing community service for litterers gets a hearing. More
Public works
Public works small works roster bill to be heard. More
Transportation
Secretary of State officially certifies I-976. More
FMSIB annual report. More
Senate work session on draft transportation package. More