Initiative 940 "fix" bills scheduled for a hearing
Two companion bills that are identical to HB 3003 from last session are scheduled for hearings. The bills would modify several provisions of I-940, passed by the voters in November 2018. More
AWC signs amicus supporting city rights-of-way
AWC will file an amicus brief supporting cities' privilege to govern public rights-of-way. The amicus will support legal challenges to the FCC declaratory ruling on siting of 5G small cell wireless facilities. More
Public defense funding bill returns
WSAC introduced a bill that puts the responsibility of public defense funding back on the state. A hearing is scheduled for this week. More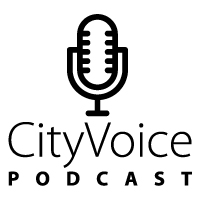 CityVoice Podcast Episode 2: Affordable housing
It's an issue that has ramifications for homelessness, economic development, the environment, and more. Listen in as Government Relations Advocate Carl Schroeder talks with Deputy CEO Alicia Seegers Martinelli about the challenges and opportunities related to affordable housing. AWC's CityVoice Podcast is a convenient way to keep up with the issues affecting Washington cities.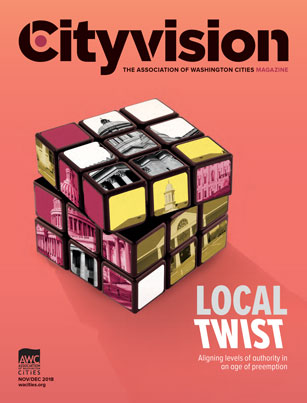 Local twist: Aligning levels of authority in an age of preemption
Cities have legal rights to make local decisions that impact their communities. But what happens when other levels of government try to override those decisions? Read how some Washington cities stood for what they believed in and won.

Register for AWC's upcoming Olympia events
Mayors Exchange | January 23
City Action Days | February 13-14
Take the Ruckelshaus Center growth planning survey
If you haven't had a chance to take part in the Ruckelshaus Center's workshops on the future of the Growth Management Act, you can still share your feedback. Please take a moment to fill out this survey so that your perspectives can inform the center's work as they make recommendations for potential changes to the state's growth planning frameworks.

2019 Legislative Session is here!
After months of preparation and buzz, the 2019 Legislative Session is finally here. The first week of session is a whirlwind combination of formal ceremonies and speeches, lawmakers getting up to speed on topics, and some committee hearings on bills. Find out what you can expect and gain some insight into the 105-day session.

Budget & finance
Transparency of local taxing districts. More
Cannabis
Bill restricting cannabis business siting gets a hearing. Notably, this bill affects current cannabis license holders. More
Governor announces initiative to pardon marijuana misdemeanors. More
Federal
A partial shutdown of the federal government was initiated on December 21 when the White House and Congress failed to reach agreement on seven appropriations spending bills. Check out these NLC resources. More
General government
Study bill would create a disaster planning work group with AWC as a member. More
HR & labor relations
Premiums have begun but cities still face unanswered PFML implementation questions. More
Open government
Just how much does Public Records Act compliance cost cities and towns? This new JLARC brief brings the state one step closer to finding out. More
Pensions
The Department of Retirement Systems (DRS) has released their 2019 retirement planning seminars for members of the LEOFF, PERS, and PSERS systems. More
DRS has released their 2018 financial report on the state's eight public pension systems. More
Public safety & criminal justice
Settlement approved in Trueblood case. More
Transportation
Automated Driving System (ADS) demonstration grants. More
I-976 aims to reduce motor vehicle fees. More